Grooves & Samples #28: Jacques Loussier – Pulsion (1979)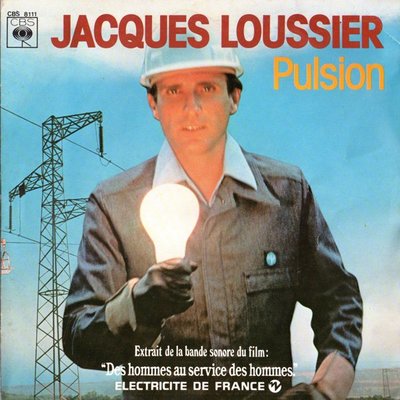 Jacques Loussier, the ebony-and-ivoried French pianiste and compositeur, has yet to be justly blazed for one time lighting up the break and hip hop scene with that fire and funkstone.
Grooves & Samples is a weekly dive into old dusty crates of jazz, funk, soul and beyond.
Jacques Loussier, the ebony-and-ivoried French pianiste and compositeur, has yet to be justly blazed for one time lighting up the break and hip hop scene with that fire and funkstone.  It sometimes gets no doper nor deeper than courtly baroque and neoclassical pieces of key-and-string orchestration put bap-boom-bap to the sticks.
Loussier was literally avant-garde in fusing jazz improv and percussion with classical modes and phrasing – he was also known to give the funky drummer some.  In his own English: "Mixing the sacred aspect of classical music with the underground culture of jazz."
Spin through Loussier's discography at 45 RPMs to 1979 and "Pulsion", this is the joint towards which crate-diggers and beat-smithers were once propelled to spin around like a spindle adapter. "Pulsion" was of course most famously, infamously murked by Dr. Dre and Mel-Man for "Kill You."  Eminem initially heard the beat knocking via cell phone while vibing with Dre over planning his third and shadiest album to date, The Marshall Mathers LP. He went on to pen some of the most inflammatory lyrics on the album and record one of his most recognizable and controversial songs ever.
Loussier's son was apparently a big fan of Em à la Stan, a true disciple. He was actually the sample-blower who had shown-and-proven the French connection between "Pulsion" and "Kill You" to his father. And with the proverbial quickness, papa Loussier hit the real Marshall Bruce Mathers III and Andre Romelle Young with a veritable kitchen-sink copyright infringement case in Loussier v. Universal Music Group, Inc (2002).  The next Shady-Aftermath release might have been titled All Samples Uncleared subsequent to having been G-checked with a $10M lawsuit to immediately and henceforth dead all sales of the Mathers LP; along with a petition demanding that any unsold wax, tapes and discs be shot to the melting tank and destroyed.  Folks settled out of court for a grip of "undisclosed remuneration."
At issue was the heart-and-soul of both Loussier and "Pulsion": a seemingly gaffled, improvised and interpolated, flip of its rhythmic "tone," "harmony" and "structure" for "Kill You."  Yet crazy ironic that whenever Loussier had decades-previous done similar things musically with his Play Bach Trio, he was effectively a sampling mashup producer himself on what were essentially derivative Jazz-Classical "variations" "adaptions" or "interpretations" of Old School masters, long deceased, and thusly unable to draw-down, lawyer-up on the "musicien inclassable" and could-be, would-be sampler.
Leaving the rest of this haterific sample-biting and legal-fisticuffs gossipry to the tabloids, "Pulsion" is what heads really want to hear in a real, honest-to-goodness joint. And this is the joint.  Back-to-basics with a fresh and clean breaks – minimal while monumental, elementary while enlightening. Piano and drums full-stop, period. Quick, reverberant, and scintillating flickers of piano rise transfiguratively then descend rapt and revivified within the headphones.  These airy, electro-gliding pyrotechnics find concrete grounding in percussioinist Luc Heller and a musical spine of hard knocking breakage.
Analogous to the courtly, enlightened refrain of "Pulsion" from drop to loop – its wide-open and sample-ready bars 0:00-0:05 – both mood and setting might invite an anachronistic snap digression to the wayback machine for l'Époque Baroque; the day of Bach and nostalgic, halcyon daydreams of Loussier.  Here one can almost imagine Eminem lighting the mic majestic over the original "Pulsion" uncut and unadulterated.  For the joint was all but composed, arranged, and orchestrated for rappers. It simply don't stop, won't stop knocking for a spitfire like Em to flow molten lava vocals upon, within, and throughout its highly flammable and ignitable emcee fabric.
Once a finespun but vocally threadbare tapestry of instrumentation, Dr. Dre and Mel-Man might have been given due pounds and propers for respectfully re-cutting and re-weaving "Pulsion" for Eminem – making it relevant to a new genre and generation of fandom.  However, "Kill You" would ultimately catch more fade than wreck from fans and critics alike while Em was publicly censured by a US Senate committee for his defacing and alleged threat to women; howbeit the Mathers LP went RIAA-certified Diamond and Grammy-trophied Best Rap Album.  And Loussier was content to walk away from the scandal with a few more Euros in the pocket of his clown suit. "Kill You" had escaped the guillotine and "Pulsion" upsurged evermore as Loussier killed it live as always on the world stage – whereupon he continues to electrify newfound devotees and faithful habitués with his Jazz-Classical ish during hundreds of annual Bach to Bach concerts and performances.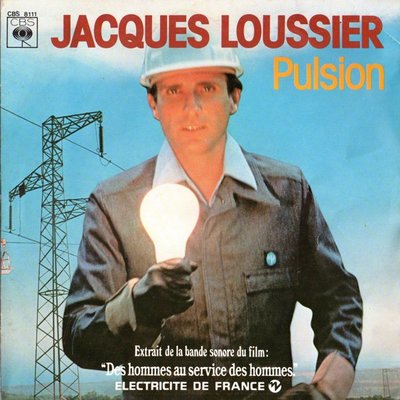 As a coda and final cap tip to "Pulsion," the joint was already so powerful and electrifying, long before these Em and Dre days, that during its radio and phonograph zenith, Electricité de France had copped it as background music for a late-seventies national televised energy campaign: "Des Hommes au Service des Hommes".  True, he was known to score library music for television and movies, but this version is a circuit-breaker on the night the lights went out in Paris.  The motif and tempo are kept rock-steady, although flowing to a softer, alternate charge now as clouds gather above an amply rebuilt powerhouse of "Pulsion."  Drums and piano equally more robust, richer and ruggedly strengthened to weather any electrical storm.
But the true climax of the joint is when Loussier brings that ruckus with a volt-surging, fuse-blowing symphony of break-worthy proportions.  Strings billow and horns torrent inclemently while a sick threnody of  intonations ride the orchestrals out until the song fades to Fin.  EDF also pressed up these 45 "Spécials" for promo giveaway and retail, then authorized by Lousier of course.   This "Pulsion" was lastly released on seven-inch and even cassettes; all featuring slightly different but complimentary versions of varied lengths on each and every flip: Piano Batterie / Piano Orchestral.  And these are the breaks.
Now break out that Chambord and pour an apéritif with capital, crystalline cheers to breaks and Jacques Loussier.  À votre santé.