Interview: 20syl (of Hocus Pocus)
Sometimes music is so beautiful, that you forget about the fact you don't understand the foreign vocals. Hocus Pocus is a prime example. The French group brings a unique mix of Hip Hop, Jazz and Soul played with live instruments. No matter what language you speak, Hocus Pocus is a crew you cannot ignore. An in-depth interview about the history of Hocus Pocus, upcoming releases and music in general.
Sometimes music is so beautiful, that you forget about the fact you don't understand the foreign vocals. Hocus Pocus is a prime example. The French group brings a unique mix of Hip Hop, Jazz and Soul played with live instruments. No matter what language you speak, Hocus Pocus is a crew you cannot ignore. An in-depth interview about the history of Hocus Pocus, upcoming releases and music in general.
Music: Hocus Pocus – Malade
You recorded your first two albums ('Premiere Phases, Premiere Formules' & 'Seconde Formule') with a different line-up than you do now. What was the line-up back then?
With those two discs we go back in time, it was 15 years ago. Both albums were the very first projects we ever did. On 'Premiere Phases, Premiere Formules' it was just me and an emcee called Cambia. We released that album in 1996.
We recorded everything in my own room, made photographs of the artwork and we sold the tape on the playground of our college and lyceum. Around 1997/1998 we met DJ Greem and then we did our second album 'Seconde Formule' in 1998. I did all the instrumentals and some lyrics, Cambia wrote lyrics and Greem did the scratching. In 2000 we decided to start playing with a live formation of five musicians. In 2003 we changed our formation and that's the same collective as we play with now, only the drummer's with us since 2000.
Will you ever re-release the first tape or second CD?
No, I don't think that will ever happen. We did those albums way back and it'd be weird if they appear as re-releases nowadays. The sound quality of our first album isn't good and it sounds very different than our recent sound. Maybe one day we will release 'Seconde Formule' as a limited edition vinyl or as instrumentals for the fans and collectors. But I doubt we'll ever re-release our first tape and 'Seconde Formule' on CD…
Your first two releases are straight forward Hip Hop, while your other releases have a more organic sound. Why did you change your style?
I think you can already hear our organic sound on 'Seconde Formule', because we sampled Louis Armstrong and Serge Gainsbourg. Those samples give the album a subtle jazzy feel. But at that time we listened to a lot of hardcore French Hip Hop like Time Bomb, Oxmo Puccino, Lunatic and The X-Men. We also liked artists from the west of France, like Le Bastion and Soul Choc. There was a lot of energy in the scene in West France, which influenced us a lot at that time.
I also started to perfectionize my productions skills and I started using acoustic instruments in my productions. We started working with musicians and we wanted to add live-elements to our music. We changed our view on music when we started playing with musicians on stage.
Was it unique in France to combine Hip Hop with live instruments back then?
There were some other projects, but it's true that there weren't any acoustic Hip Hop groups at that time. Well known artists as MC Solaar and IAM played with live instruments on stage, but those musicians weren't part of the group. Hocus Pocus is really a band with live instruments, so it was definitely unique in France back then. That time really inspired us and changed our view on music, so thanks to that we decided to start working on our most recent projects '73 Touches' and 'Place 54'.
Why the name Hocus Pocus?
We made up that name while working on 'Premiere Phases, Premiere formule'. Me and Cambia were into magical formules and chemistry. It was a metaphor between music and the universe of magic. On 'Seconde Formule' we abandoned the concept of magic, but the name stayed.
How do you create songs?
It happens in several stages. I start with the productions: I create a beat and present it to the band and then we start working on it together. After that I start writing the lyrics. I'm responsible for the foundation of the song, but after that we work as a group on the arrangements and we make sure to add some extra niceness.
That's how we work most of the time, but if in example our guitarist comes up with a nice riff, then we work around that.
Can you give a reason why you are well-known in the (Jazzy) Hip Hop scene?
In France we're known thanks to our concerts. We toured intensively and played in a lot of cities. We did small shows, big gigs, festivals… you name it. And outside France we are lucky we met the good people over at P-Vine Records, who did a lot of re-releases and imported a lot of albums like our style; Jazzy Hip Hop, Soul and Funk.
P-Vine Records did a great job with promoting our music in Japan. Next to that we also played some shows there. And if we go back into time even more, we are really thankful for Japanese producer and record shop owner Nujabes. He has a store in Tokyo ('Tribe' in Shibuya) and he discovered Hocus Pocus and bought a lot of copies of our 12 inches and of our CD 'Acoustic Hip Hop Quintet'.
He recommended us to his customers and our releases sold very good. So he's the one who introduced us in Japan. We also played at a big Japanese festival called Asagiri at the foot of Mount Fuji in front of thousands of people. I think there's an open culture to Afro-American music and Japanese people really love Hip Hop, even if they don't understand the lyrics Hocus Pocus bring. We're very grateful for that.
Can you describe your audience at shows (age, style and such)?
(Fan submitted question by Gilles)
It's very strange, actually. Five or six years ago there were mainly Hip Hop heads at our shows. But since a couple of years it's really a mixed crowd: older and younger people, Jazz lovers, Soul lovers… Even our crowd tells us they are really amazed to see so much different people from all ages with different backgrounds. There can be a dad from over 50 years old dancing with his young son doing the same next to him. We really enjoy the variety in our audience.
I personally think the diversity of your latest album 'Place 54' has something to do with that. If you listen to the song 'Smile', for example, you don't have to be a Hip Hop lover to appreciate the song…
What I like to do is to mix up different genres in one song, so everyone can interpret it in his own way. If someone who loves Hip Hop listens to Voyage Immobile, he can clearly hear the references to J Dilla, A Tribe Called Quest and to Hip Hop in general. When an appreciator of Jazz listens to the track, he hears references to Miles Davis, Louis Armstrong and Billie Holiday in the music and the lyrics as well. So kids who like Hip Hop hear references to for example Jay Dee while their fathers hear Roy Hargrove in the music.
Who is singer Omar, who's featured on 'Smile'?
He's a fantastic singer with an incredible voice from the UK. He started back in the 80's and released eight albums in total or so. He has worked with artists as Stevie Wonder, Common and is very famous in the UK and France. I heard his latest album with some crazy songs and that's why we wanted him to sing on 'Smile'.
What do you think about downloading music? Is it a good thing for bands like Hocus Pocus?
I think it's partly a good thing for us, because it gives a chance to a lot of people to discover our music. Now that we are going to release a new album I'm not sure that a lot of people will hear the album a few days after its release without touching the album at all. Because now you can just go to websites as Deezer and Musicme to listen to albums without having to buy them.
We worked hard for almost a year and it costs a lot of money to pay for musicians, the studio… everything. We don't earn a penny of all this streaming and downloading.
Lucky for us we record in a home studio and thanks to that our recording progress doesn't depend on album sales. We don't have to sell 50.000 copies to break even. Another advantage for us are our gigs: a lot of our musicians live off gigs, not off album sales. We can understand that you download something to discover new artists, but we think by now Hocus Pocus is past that stadium. We already have a fanbase, so hopefully our new album gets a lot of physically and digitally album sales.
Another thing that bothers me are those streaming sites like Youtube and Daily Motion. You can get 50.000 views as an artist without seeing royalties of it (editorial note: Hocus Pocus' video 'Hip Hop' has 1.192364 views on Youtube!). I think we have to go to a system where artists can recover a bit of the royalties when their art is being streamed.
In these days everybody with an internet connection can download programs to be a 'producer'. Do you think that's a good thing?
I noticed that nowadays there are a lot of copycats. There are producers who sound exactly like Pete Rock or DJ Premier. For those cats who download Fruity Loops and try to make beats, producing isn't their thing. They aren't really passionate about it, they only re-produce what they hear and try to sell their beat for a dollar on various sites. Copycats like that always existed, but the amount of producers like that increased since this digital revolution.
On the other side, it gives people that do have the talent and passion the chance to create sounds. Everyday lots of talented producers appear in the scene and that's a positive thing. You also need to make a difference between people who only use the standard soundbanks delivered with those programs and those who create their own sound. If you see what for example 9th Wonder can do with Fruity Loops, damn… The cats with talent, no matter what software they use, you can recognize it immediately.
Music: Mr. J Medeiros – Amelie (ft. 20syl of Hocus Pocus)
What can we expect of the new Hocus Pocus release in 2010?
Honestly, it's hard to tell because we're busy with finishing the album, so it's hard to look at it from a distance. I have the impression that it comes a bit closer to '73 Touches' than 'Place 54'. There are songs that are straight forward Hip Hop, but other songs are even more jazzy than some songs on 'Place 54'. We really tried to mix up genres even more. Our first 12" is going to be Hip Hop, but on the other side there are going to be songs with very heavy influences of Jazz and Funk. It's in the same line we did on the previous two albums but with even more variation! The album also has a bit of a Motown-vibe.
Sounds good! When is the release?
If everything goes like it should, the release is in February next year.
And can you tell something about the guest appearances on the new album?
I would like to give you some names, but the problem is that there's nothing real definite yet. What I can tell you is that there will be two features with French rappers, something we didn't do on our previous releases – we only had Kohndo on 73 Touches. We also hope to have Alice Russell featured on one of the tracks, but that isn't 100% sure yet. And of course there will be a lot of guest musicians as well.
I know people from other countries in Europe who are very eager to see you live in their country. Will that ever happen?
That'd be a real pleasure! What I also would like is to have proper distribution in these countries, so they don't have to import our CD's. When we go there, we would like to do things good. The only problem is that we are with 9 persons now and 14 musicians for our next tour. That's not the same as a DJ and two MC's, then you can do a lot of touring for little money. But if we ever get a good proposition for doing a gig or festival in countries like Holland, Germany or England, then we would do it for sure!!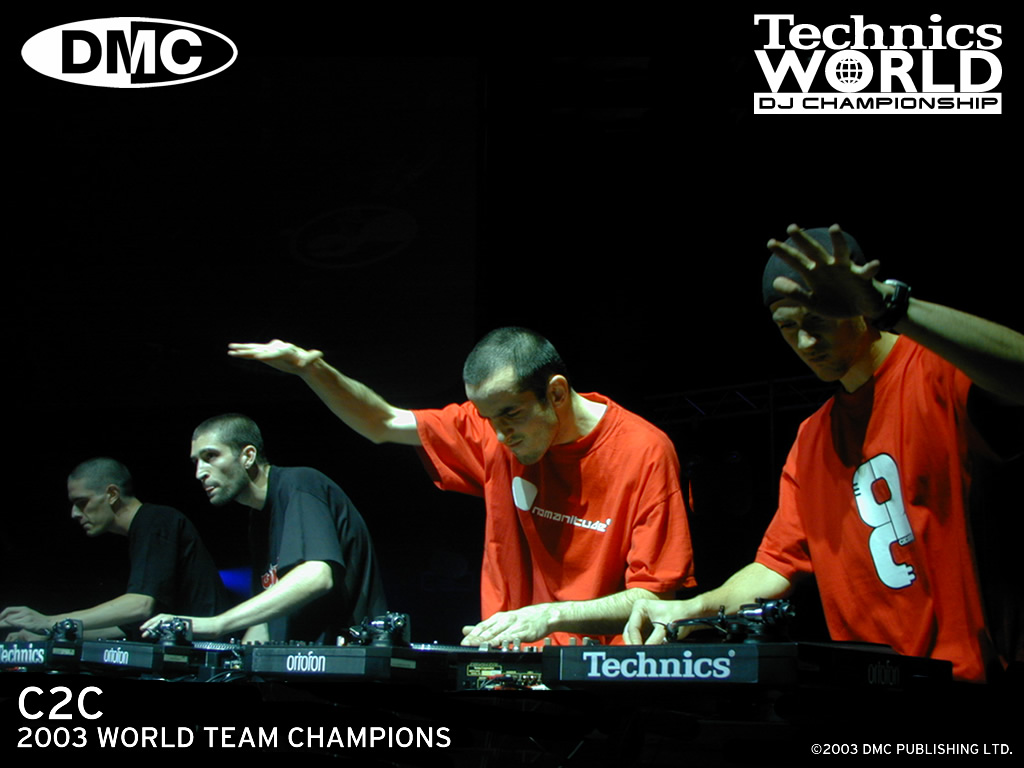 About C2C, will the album ever be released?
Beat Torrent, a project by Pfel and Atom, is doing very well at the moment, so that takes a lot of time. DJ Greem and I have Hocus Pocus and that takes a lot of our time as well, so it's hard to get together. But we have the compositions ready. We just have to go into the studio and record everything, but that takes time. We set the deadline for ourselves at the end of 2010.
What is it going to sound like? Is it going to be a mix, or is it something like the Flying Saucer breaks series?
No, Flying Saucer Breaks are break beats we did three of. Listen to songs on Hocus Pocus albums featuring C2C like 'Feel Good' or 'Move On', the album will be similar to those styles. There maybe going to be some references to the sets we did on the DMC Championships, as well.
Time for a tricky question: C2C or Hocus Pocus, what do you prefer?
It's hard to choose, because in C2C I'm a DJ and in Hocus Pocus I'm a MC and producer: two completely different things. On the other side, we are already ten years on tour with Hocus Pocus and sometimes I feel to take a break with the band so I can focus on C2C or maybe even on producing a solo album. But when C2C finished the album, we will do a tour as well!
Yes, me and Yann created the label in 2000. Yann takes care of the administration and I do all artistic related things. On And On Records is at the moment Hocus Pocus, C2C, 20syl (as producer) and maybe we'll add another artist, too. He is a singer who goes by the name of Gwen and he mixes up urban styles with traditional French songs. You can describe him as a Serge Gainsbourg singing over a beat by DJ Premier.
Music: Hocus Pocus – On And On Part 2 (ft. Ty)
What kind of music do you listen to yourself?
Sometimes we listen to new things in Hip Hop, sometimes oldies and other moments classics. On my Ipod I have music by Jose James, Oxmo Puccino, Robert Glasper and a Japanese group called Nu Jam, who cover R&B-songs with their own interpretation. And I have music by Q-Tip (A Tribe Called Quest) and the new album of Quantic… My musical taste has a lot of variation, just like the music of Hocus Pocus.
—-
More info: Hocus Pocus
Related content: Hocus Pocus
Soon we will publish a brand new track off Hocus Pocus' upcoming album. Stay tuned for that!