With all the computer based music programs and beat machines around nowadays, the electronic and hip hop scene is overflowing with new and increasingly younger producers. While beat making may be readily accessible to many, creating good music is still a challenge.
With all the computer based music programs and beat machines around nowadays, the electronic and hip hop scene is overflowing with new and increasingly younger producers. While beat making may be readily accessible to many, creating good music is still a challenge. 
Sunik Kim a.k.a. Beat Culture is a young experimental electronic musician who has been garnering much positive attention around the blogosphere with his dense and atmospheric compositions. He recently took some time to talk to The Find about his music and interests… Enjoy our surprising conversation.
Who are you?
Sunik Kim. I'm Korean, I live in Hong Kong but I go to boarding school in the states. I'm 17 and starting my senior year of high school. I started making music in February of 2011.
What do you use to make music?
Well I used to use FL studio 9 when I started but I produced some truly terrible stuff with that. Actually I'm going to upload a zip file with some of my old songs, you should check it out, it's pretty funny. Here you go. But since April-ish I've been using Ableton Live 8, as well as an Akai LPK25 which is basically a mini-keyboard. That's all I use for producing really.
What is your favourite instrument?
I have to say that the guitar is my favourite instrument. I play alto sax but I also taught myself guitar in 7th grade. It's not my favourite only because it's really fun to play and learn some of my favourite songs, but as a producer I like the sound of guitars in electronic music, it adds a great "organic" feel that makes it a lot less robotic. I think Shlohmo is a perfect example of why guitar is my favourite instrument, he samples guitar flawlessly.
Wicked. What is your favourite animal?
My favourite animal is definitely the tiger, but not in the typical sense…I'm talking Calvin & Hobbes here. That comic defined my childhood (in fact I read one of my old compilation books front to back in one day just a week ago), and Hobbes is seriously one of my favourite fictional characters. He's the voice of reason in the comic which is what makes him the perfect compliment to Calvin. Yeah I can go on forever about Calvin & Hobbes so I'll stop there. It's a true work of art.
Yes!
What is your favourite alter ego of Calvin?
Hahahahah, definitely Stupendous Man. I think the whole idea of it is hilarious, especially when his daydreams end and you realize he's just some school kid in a ridiculous costume. Perfection.

 Ballin'. How do you feel about Susie?
Hahah. I'm kind of confused by Susie because you never really learn about her personally, it's always in relation with Calvin's shenanigans. I feel like she's a pretty central character but I know nothing about her. Also she's always seen as alone other than with Calvin, kind of makes me wonder what's going on. Yeah i'm probably way over-analyzing it but still that's just how I felt when I read the comic.
Interesting! So, what was the last song you heard that blew your mind? 
Wow where to start… lemme look at my bookmarked songs. Ok definitely TV Girl – "Benny and the Jetts"… Holy Jesus, I think that song will change my life.
Great. If you could have a super power what would it be and how would you use it?
Honestly I just want the power to fly. I don't need any of the crazy time traveling, teleporting or laser eyes. If I could just lift off and fly around at will my life would be complete.
What got you into the whole glitchy beat movement?
Well, I started with house stuff which ended pretty badly. I guess what got me into the more experimental stuff is just trying to mimic my favorite artists. It sort of started with Burial, which was basically the only influence on my first EP. But then after that I started listening to stuff like Gold Panda and Baths, and I started branching off into more experimental/glitchy stuff. Then I discovered chillwave (mostly Neon Indian and Washed Out, little bit of Toro y Moi), which influenced my first album. Recently I've been listening to a lot more hip hop/r&b stuff, especially jazz-related (like Nujabes). So with my newer songs I sort of go with the glitch-hop vibe… But most recently I've been moving towards a little more mellowed out, jazzy stuff. I'm not sure where I'm going to go next.
What is in the future for Beat Culture?
Well I just announced the details for my upcoming album, "Tokyo Dreamer" which I'm going to drop on June 3, 2012 (the day I graduate). Other than that, the near future is going to be devoid of pretty much any music because I have to focus on school-related stuff (college), but once I'm clear with that I'm going to be working hard on my album, as well as (hopefully) doing my first show eventually!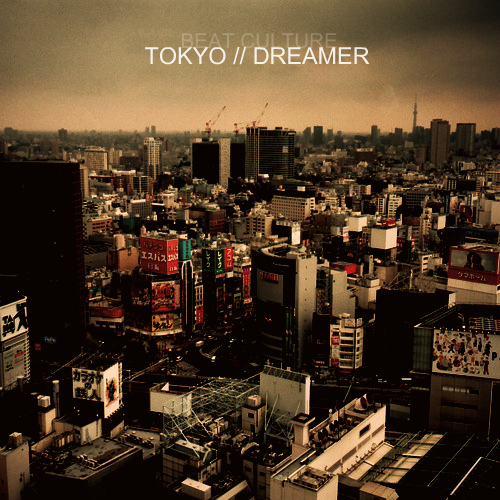 Good luck with school! Any last words?
I guess I just want people to really start promoting more original and innovative music rather than recycle the popular stuff that dominates the internet/radio/tv. There's an insane amount of amazing music that goes unnoticed, while people like Justin Bieber and Katy Perry have the limelight. So, blog readers, start telling all your friends about your most recent favorite songs, I really want to see the music industry change for the better.
There are four free releases by Beat Culture available on his Bandcamp. Be sure to check those out and stay in touch with him through social networking Facebook & Twitter.