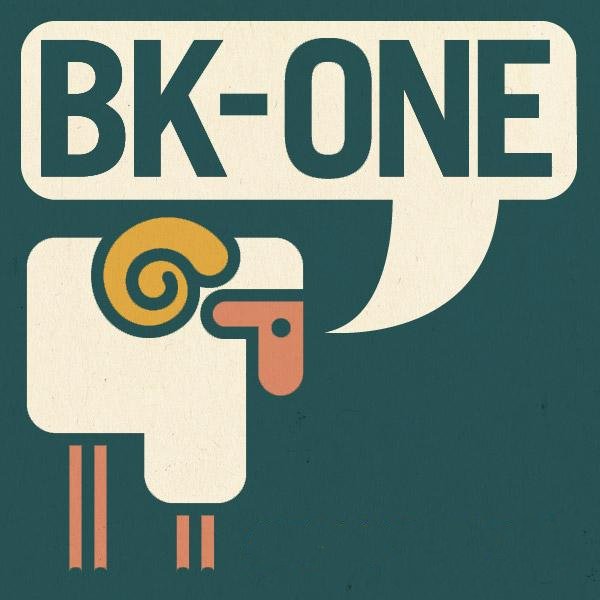 Not too long ago BK-One released his first official album 'Radio Do Canibal', 19 tracks of goodness heavily inspired by Brazilian music and culture. Next to that he's touring with partner in crime Brother Ali and is planning to release a new album before the end of the year. We hooked up with the Rhymesayers DJ to talk about being on the road, music and and the life of BK-One.
Not too long ago BK-One released his first official album 'Radio Do Canibal', 19 tracks of goodness heavily inspired by Brazilian music and culture. Next to that he's touring with partner in crime Brother Ali and is planning to release a new project before the end of the year.
Music: BK-One – Here I Am (ft. Phonte, The Grouch & Brother Ali
Thanks BK for taking the time to do this interview. I was wondering if you could give a brief introduction of yourself to our readers?
What's up?  My name's BK-One, and I'm a DJ from Minneapolis.  I've spent the last 10 years touring with Brother Ali and releasing mix cd's like "For The Love Of Music" and "Set In Motion".  This past fall, I released my first album "Rádio Do Canibal" on Rhymesayers Entertainment.
In the early days of Hip Hop, the focus point of the live events was the DJ, nowadays the focus shifted to the emcee. Can you touch on your role as the life of the party and would you like it to go back to the old days?
I think that's just a natural progression.  As hip hop became more of a recorded art and less of a performance art, the focus was going to shift to the MC.  It doesn't bother me…I'm too shy to be the center of attention anyways!  When Brother Ali and I prepare our sets, we work hard to capture the spirit and energy of that early relationship between the DJ and the MC.  On our last 3 tours, I've DJ'ed the entire evening (for all 3 acts and in between their sets).  This puts a little bit of focus back on the DJ.
What would you say is the hardest part of being a DJ?
I think the hardest part of being a hip hop DJ to me is that there isn't enough good music being made anymore.  When I started DJing, there were 10 really exciting new albums out each year, plus endless singles with exclusive b-sides, acapellas, remixes…there was just so much material to work with.  Today, I rarely feel inspired by the new music that I'm sorting through.

BK-One in Mexico
What equipment do you use?
I use 2 Technics 1200's, a Pioneer 909 mixer with a built-in effects processor, a MIDI keyboard, and a laptop running Serato, Ableton, and KueIt.
You played the piano as a kid and you studied jazz; how did that transition into DJing and hip hop, and how does your musical background fit into your DJing?
I'm really glad that I have so much music theory under my belt.  It helps me understand how music fits together, how to translate what I'm hearing in my head into reality, and how to communicate with session musicians when I want to add something to a track. All the jazz I played when I was younger prepared me to think quickly on my feet up on stage.  Things often don't go like you planned, and you need to be prepared to adapt quickly.
Being a DJ, I can imagine you are also a huge music collector. What do you currently have on repeat now?
Edan just released an incredible mix cd called "Echo Party".  My friend and graphic designer Mike 2600 released a digital-only EP called "Ready To Rock".  It's cut & paste goodness that's perfect for playing at house parties.  I'm also really digging the Lotus Land release of songs by Darwin Jones.  He was a session musician that played with Sly Stone, DJ Rogers, and Ike Turner.  He recorded an entire album's worth of material using Sly Stone's equipment and studio (around the time of "There's A Riot Going On") but it never got released until now.
What were some of your early musical influences?
Depends how far back you want to go.  When I was a little kid, I couldn't stop playing the "Jungle Book" soundtrack on my Fischer Price turntable.  When I was 15 and I first started collecting records, Stevie Wonder was my favorite.  My jazz teacher from that same time, Cliff Gribble, was also a huge influence.  He loaned out his entire record collection freely, and he let me borrow music equipment (keyboards, the vibraphone, and a 4-track) over the summers.  When I started DJing (18 years old), my influences were Rob Swift, DJ Premier, Jam Master Jay, Mr. Dibbs, and Aaron Money (who taught me how to DJ).
Why do you think many hip hop fans don't always look outside of the genre for good music?
A lot of people use music as a way of defining themselves.  They end up boxing themselves into a place where listening to different music would conflict with who they think they are.
Changing gears, how's touring?
Touring is exhausting, but so much fun.  A few days back, Ali and I were performing in Wyoming, and Justin Timberlake jumped on stage to beatbox with us!  I've lived a lot of great stories, met a lot of amazing people, and had an incredible time doing this.
Do you enjoy being on tour? What's your favorite part and not so favorite part?
I definitely enjoy being on tour, but it's hard being away from home so much.  Our last tour was 10 weeks long, and we're already planning another 2 months of touring starting in February.  Also, I love visiting so many interesting cities, but I rarely have the free time to go explore them.
So you an Ali are going to go back on the road soon (in Europe) and a spring Canadian tour is in the works, can you let us know what you do to prepare for the tour? Do you have any special rituals?
No rituals, but Ali and I put a lot of work into preparing for a tour.  We usually have one or two days that we spend talking about the overall vision for our show and picking out potential songs.  Then we'll spend several weeks brainstorming and trying out ideas for different remixes, routines, and transitions between songs.  After that, we decide on an order for the songs and head to the studio to mix and master everything.  Then we'll spend a couple days at a rehearsal space seeing how everything sounds coming through a PA.  Once we've polished out all the rough spots, all that's left is to pack our bags.  But no matter how much work we put into a set, there's always changes that get made once we start performing it in front of crowds and reading their reactions…mostly during the first week of tour.
Music: BK-One – Philly Boy (ft. Black Thought)
With your relentless touring, you've had the opportunity to meet quite a few legendary artists over the years, who are the ones that stick out as the most impressive and who (other than Ali) would you say is an honor to share a stage with?
My favorites have been Rakim, Ice-T, Mos Def, Melle Mel, Chuck D, Big Daddy Kane, MF Doom, De La Soul, Umar Bin Hassan (from The Last Poets), Biz Markie, The Rocksteady Crew…ahhhh too many to name!  Touring with Rakim and Kid Capri was probably my favorite.  Also, Maceo from De La Soul gave me a great compliment that I'll never forget.  He was one of the first DJs that I ever saw live, and I loved the way that he put shows together for De La, so that meant a lot to me.
You recently wrapped up a tour with Brother Ali, Toki Wright & Evidence, how was that like?
I've always said that my favorite tour ever was God Loves Ugly with Atmosphere, Murs, Blueprint, and Ali in 2002.  It was my first tour, Ali and I really found our footing on stage, and there's so many classic stories that come from that run.  The Fresh Air Tour with Ali, Toki, and Ev was the closest a tour has ever come to beating God Loves Ugly.  I got to put together sets for and perform live with Evidence of Dilated Peoples and Toki Wright.  I DJed while Everlast from House Of Pain performed "Jump Around".  And I got the opportunity to perform music from my debut album "Rádio Do Canibal" for the first time.
Now that the Fresh Air Tour is completed and "Rádio Do Canibal" dropped what's next for BK-One?
There's always new tours right around the corner, so Ali and I are back in the basement working hard on our live show.  I also have a few new projects that I'm still in the planning stage for.  I'm listening to lots of music, taking notes, and letting ideas marinate for a while.  I'd like to have a new release finished by the end of the year.
Describe "Rádio Do Canibal" and what went into making it.
"Rádio Do Canibal" is a hip hop album, heavily inspired by Brazilian music and culture.  I spent some time in Brazil a few years ago, travelling and collecting records.  I fell in love with what I was hearing, and the more I learned about the history, the more I knew that I wanted to do something new with these records.  I spent some time figuring out which songs had the most potential, then called my friend Benzilla to come contribute to the project.  Ben is a very talented young producer from Minneapolis.  I gave him a collection of music to sample from and another collection to find drums in, then shared my vision for the album with him.  He programmed out 40 or 50 beats, then I picked out my favorites and asked him to make small adjustments (slow this one down, change the drums on that one, find another section to use for a chorus, etc…).  Finally, I arranged and edited the beats, added keys, bass, and guitar to certain tracks, and started figuring out who was going to rap on which songs.
How was it like reaching out to Black Thought, Scarface, and Raekwon? Were you nervous? Did you have any thoughts of them rejecting you?
I'm not afraid of being rejected.  Being told no isn't nearly as bad as we expect it to be.  There's plenty of other people that I got turned down by, but I love the group of artists that I assembled for this project.  I got heroes of mine (like Raekwon, Scarface, and Black Thought) next to some of the most talented artists of my generation (Slug, Murs, Brother Ali, Phonte, Blueprint, The Grouch, etc.) next to hungry artists that most people haven't heard of yet (Toki Wright, Aby Wolf), and I think everybody turned in great songs.  The collaboration that worried me the most was with The Hypnotic Brass Ensemble (a 9-piece brass band that have played with Erykah Badu, Tony Allen, and Mos Def).  I have a background in jazz, but I've never done anything like this before.  I assembled a sound collage of percussion and vocal samples, wrote out a chord progression, then asked them to compose for it.  They put together some incredible music, then I edited and arranged it.  I had no idea how it would come out, but I was excited to try.  It turned out to be one of my favorite songs on the album.
What's it like putting your friends (Brother Ali and I Self Devine) on the same track with arguably legends (Scarface and Raekwon) in their craft?
Working with Ali has opened so many doors for me.  I doubt this album would have ever been made if I had never met him.  So it was really exciting getting the opportunity to put him on a song with one of our heroes.  I Self Devine is an artist's artist.  He's been making strong, intelligent music for almost 20 years, but has never gotten the recognition that he deserves.  I've always thought that Wu-Tang fans had no excuse not to love I Self, so it's great that he ended up right next to Raekwon on another one of my favorite tracks.
Any last words? Shoutouts?
I'll be touring all year long.  I hope to see everyone out at the shows, and meet them afterwords.  Thanks for the support.  Peace.
—-
Words by: Osman Ahmed
More info: BK-One