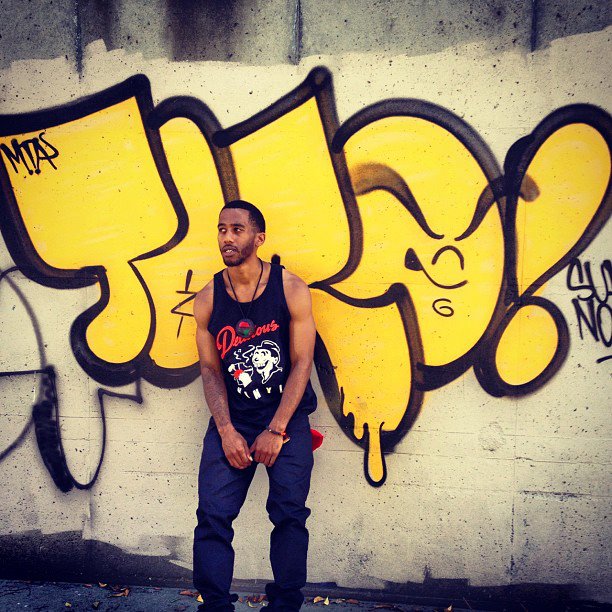 The young Bay Area rapper Chazz Shabazz is refreshingly unassuming, and alarmingly assured. One half of the duo F.M. with C-Lew, Chazz possesses an honest and firm belief in his artistry without the flashy insincerity of so much swagged-out music these days.
Rhyming at events alongside the likes of West Coast legends Fatlip and J-Sw!ft, and having recently jumped on the beat of Dom Kennedy's "My Type Of Party" for his own, more poiganantly titled, "Pity Party", Chazz seems resolute to make his voice heard and place in hip-hop known.  So, we caught up with the man himself to find out more about Chazz Shabazz…
When did you start rhyming?
I think I started rhyming in '92 after hearing The Chronic Album for the first time. Back then my younger sister and I used to kick random nonsensical raps for my family and whatnot. But, I truly began taking it seriously around 2005 when people began to recognize the talent and appreciate the music that I was making.
How did you get your name Chazz Shabazz?
My name was actually birthed from several contributing factors. I always had a fondness for the name "Chazz", being that it was a smooth-ass name. I figured if I had been born with such a name then I would have had more luck with the ladies coming up as a young whipper-snapper in the Bay Area. I heard the name used in the Rugrats for Chuckie's father ironically and it stuck with me. "Shabazz" comes from my learning about the realities of this world. I try to represent all of the strong intelligent people from my culture that stand for progress and a better life. "Shabazz" was an ancient scientist of Mecca who led the "original people" into Africa. I feel I embody that energy and try to lead by example. I'm also into symmetry – Chazz Shabazz is easy to say and people seemed to gravitate towards it. It encompasses both sides of me: A Smooth Radical. It's an oxymoron of sorts.
So what can listeners expect from upcoming "The Young Stoned" EP and the "Young Stoned Villians" mixtape?
Myself and my brother "C-lew" have been working on the music together for around five years now. Our music has always put an introspective, slightly sarcastic spin on all of life's ills, the medicine in the 'dog food theory' so to speak. This project is a more jaded, aggressive take on how the world treats the "misunderstood minority", and how we then decide to function within it to secure our happiness. People like to hear the upbeat light-hearted stuff from us so we are catering more to that section of the fan base. But, letting everyone know that people from our area can rise above the B.S. and become Legends in their own right.
When you rhyme over another artist's beat like with Dom Kennedy's "My Type Of Party" – what do you feel you have to bring to it?
When I go in on somebody else's track I try to find that aggressive "caged up for too long" type of energy. I just think about all the people that have told me "No" or wouldn't even hear me out… and then I go Super-Saiyan on my Bobby Boucher hype. It's my ego saying that nobody can out-do me on this rapping tip. I take great pride in my lines.
Is there a beat already out there you're itching to get on someday?
There definitely IS… I'm more heavily into 90's production. So if anyone has MC Breed "Ain't No Future In Yo Frontin'", I'd love to have that instrumental. Naughty By Nature's "Hip Hop Hooray" and damn near any Neptunes beat… I really could go on and on.
Why "Pity Party"?
The song title is just something to let people know it's time for a new reign of terror. The West Coast resurgence is about to have some new help. There will be an abundance of celebrating on our side and an overflow of grief for anyone who didn't believe in the vision. I'm coordinating their pity party.
Tell us about the sound-bite at the start of the "Pity Party" video, and why you chose to use it?
My brother from another "J Lock It" sent me that clip. It's from The Godfather II. It fit the energy of the track perfectly and it speaks to the times we are currently living in. Rebelling against the powers that be is an option everyone has but few choose to use. Hearing that clip charged me up to pen the verses and in a way helped to mature my perspective on the impact I can have as an individual.
The "Pity Party" video has a guerrilla feel to it, akin to the early Masta Ace videos – which music videos are you inspired by and a fan of?
My favorite videos are the ones that show reality as well as keep it raw with the visuals. I don't like green screen at all really. Elaborate sets are cool but videos like "They Want EFX" and "Deep Cover" inspire me…. All the early Busta Rhymes shit was crazy too.
Why did you choose to shoot in L.A. rather than up in the Bay?
I really look at all of California as my home. Half of my family is from Watts so I've been back and forth from NorCal to SoCal for a large portion of my life. The video needed a cool, laid back setting that still had a good end of summer atmosphere, and as you know the Bay Area is known for overcast. Besides the fact that I've been doing a lot of work in L.A. lately it seemed to be what was written in the prophecy. I try to always follow my intuition.