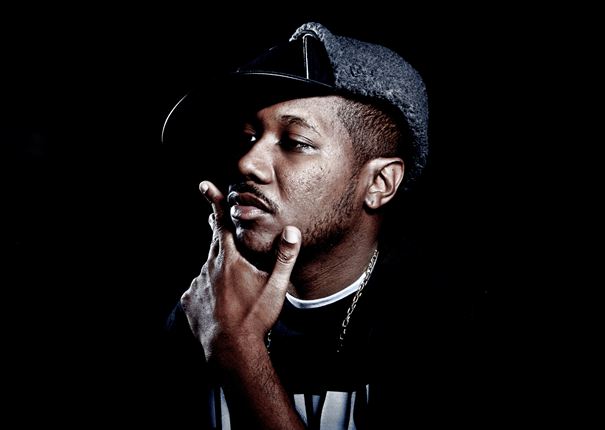 We're pretty sure Elzhi doesn't need an extensive introduction. Website WGTJ hooked up with the Detroit resident to talk about his first releases, working with the legendary J Dilla, the dispute between him and T3 (Slum Village) and Elzhi's upcoming musical projects. Luckily WGTJ was kind enough to share the interview with us, so reason enough to start reading!
We're pretty sure Elzhi doesn't need an extensive introduction. Website WGTJ hooked up with the Detroit resident to talk about his first releases, working with the legendary J Dilla, the dispute between him and T3 (Slum Village) and Elzhi's upcoming musical projects. Luckily WGTJ was kind enough to share the interview with us, so reason enough to start reading!
Music: Elzhi – Musick (The Last Days Of Hip Hop)
For those out there who've been living under a rock, who is eLZhi?
eLZhi? For starters a lover of rap music, lyrical technician, part of the Slum Village legacy and you know one of the people standing up for hip-hop in 2010.
I believe in 1997, prior to working with DJ House Shoes, you were in a group called The Breakfast Club with Dwele, Lacks, Big Tone and 87. How did you five meet each other and how did the project begin?
I met Lacks [now known as Ta'raach] at the studio he was working at. I knew Big Tone from the Hip-Hop Shop. Big Tone and 87 were part of the Hip-Hop Shop. Big Tone went to school with Dwele and Dwele kind of went to my school, but I didn't know him when he went to my school. What was crazy was everyone kind of stayed in the same area, in a certain part of Michigan in Detroit or what not. It kind of all started in the studio. Lacks knew Big Tone. He knew me and I came up with the idea of forming the group The Breakfast Club. I came up with the name and everything.
Many fans, including myself, have been wondering for years whether or not there are master tapes to this project hidden somewhere in the vault and whether there is any chance in the future of releasing a remastered version of 'The Breakfast Club EP'?
You know that would be cool, but I don't … you know what it is? There are a lot of songs that didn't get out to the masses. I mean the actual CD or tape, there were only actually twenty copies of the tape. Somebody took it upon themselves to leak it out on the internet. That's how you know it became a favorite amongst some folks that heard it, but yeah there's a lot of that material floating around. I think Lacks might have it and they actually came to me like a couple years back and asked me if I wanted to do 'The Breakfast Club' thing again with Blu, but I guess when the time is right. That might be something I might look into.
Did you anticipate the critically acclaimed, unreleased debut EP 'Out Of Focus' to come out of the woodwork and garner such critical acclaim amongst the underground scene as it has throughout the years?
I mean what's crazy is when I did the 'Out of Focus EP' with House Shoes, we did it in this studio called The Disk and we we're working with an engineer named DJ Magnetic who actually had a beat on that EP. We were just kind of going in there experimenting like… There are songs which the world will probably never hear because we were just kind of trying to figure out what kind of tone we wanted to use on the EP. The EP kind of really came about when my mom passed and that got me kind of in touch with my personal side of writing.
So, you know from there I just wrote about everything that was personal. I wrote about Bugz who had passed away, who actually was supposed to come to my crib and write a verse with me on the day that he passed; songs like 'MuSick' and the state of hip-hop that I saw it going at that time, I wasn't really happy with it. So, I mean it was just me getting it off my chest and I never sold it. Somebody again put it out there on the internet and it still amazes me how much of a buzz it got.
The intro 'Broken Frames' off the 'Out Of Focus EP' featured a female spoken word artist known as Theory 13. Where did you meet her and why did you feel it was necessary to have her perform for your opening track as opposed to you?
Well the thing is, the reason why Theory 13 performed on my opening track or on the album period was because I was all about bringing everybody that was down with me. Bringing them into my world and bringing them into what I did. Theory and I, we went back. I met Theory once again at the Hip-Hop shop. We got real cool and she did poetry on the side and with the help of Dwele producing that track, I thought it would be great if she did some poetry on there.
With your debut solo project being a truly introspective and honest body of work, something which was almost unheard of at the time for a debut album, in reference to the song SARAH, who was "the inspiration for the rhyme"?
Ugh… [chuckles] A girl named Sarah, you know, for real. The girl named Sarah that was on the scene. You know everybody thought she was fly at the time and like I say I was just writing about what was going on in my life at the time. The crew that I hung out with always had her on the brain; Sarah, Sarah, Sarah. So, I wrote a song about Sarah and broke it down to 'Someone As Real As Her'.
What was your reason for abandoning the 'Out Of Focus EP' project so abruptly?
The reason for that was, you know, life was getting in the way. At the time, you know, and there still isn't any outlet for music here like that; like New York, like California. So yeah, we were in the process of mixing it and everything, but what's real interesting about 'Out Of Focus' is that before Dilla passed, House Shoes ended up giving the DATs, just everything that we recorded on it to Dilla and Dilla was going to do a remix to the whole album before he passed, but he got sick and he wasn't able to do it.
What is your favorite song off the EP?
I've to say 'Scattered Pictures' because it was more of a personal record as far as allowing people into what was going with my family and me. That was really like the first record that I wrote that kind of made me pull out my emotions that were bothering me so much. Put it down on paper; go to the studio record it through the mic and once I heard it playing back through the speakers it made me feel good. It was like medicine. So, I'll say 'Scattered Pictures'.
Back in the early two-thousands you garnered the attention of Slum Village's very own T3 who eventually brought you under his wing and introduced you to the late great J Dilla. How did you and T3 originally link up?
T3 and I linked up through a mutual friend named Waajeed, who people may know from Bling47. He and I did a body of work that never got out there. Some songs you can hear off my double disc 'Witness My Growth', but we did a nice handful of records. At the time Dilla had left the group to do the MCA thing and T3 was trying to venture off into management. So, Waajeed linked us up and thought it'd be a perfect opportunity for me. So, when T3 brought me into the fold originally it was as a solo artist. He was my manager and I was the artist. He put me on the Trinity album and you know five songs turned into the whole album and then he brought me into the group.
As an up and coming emcee what was it like to work in the studio with the late great J Dilla and have your national debut verse for 'Come Get It' to be featured on his debut solo album, 'Welcome 2 Detroit'?
Man, to be in the studio with Dilla, I mean there's nothing like it. I've seen Dilla just make classic beats in like five minutes. Just putting the record on and dropping the needle and finding the sample like that; taking him no time, but anyway I mean it was definitely an honor 'cause I have so much respect for Dilla, even before Dilla became Dilla.
I knew him as Jay Dee back in the day when he would come up to the Hip-Hop Shop and once the Hip-Hop Shop was over with the open mic; he'd come up there with new music that he made whether it be beats or whether it be tracks like the Look of Love before it actually got on the CD. I have much respect for him. So, for him to want me to be on Welcome to Detroit, that was a big honor for me.