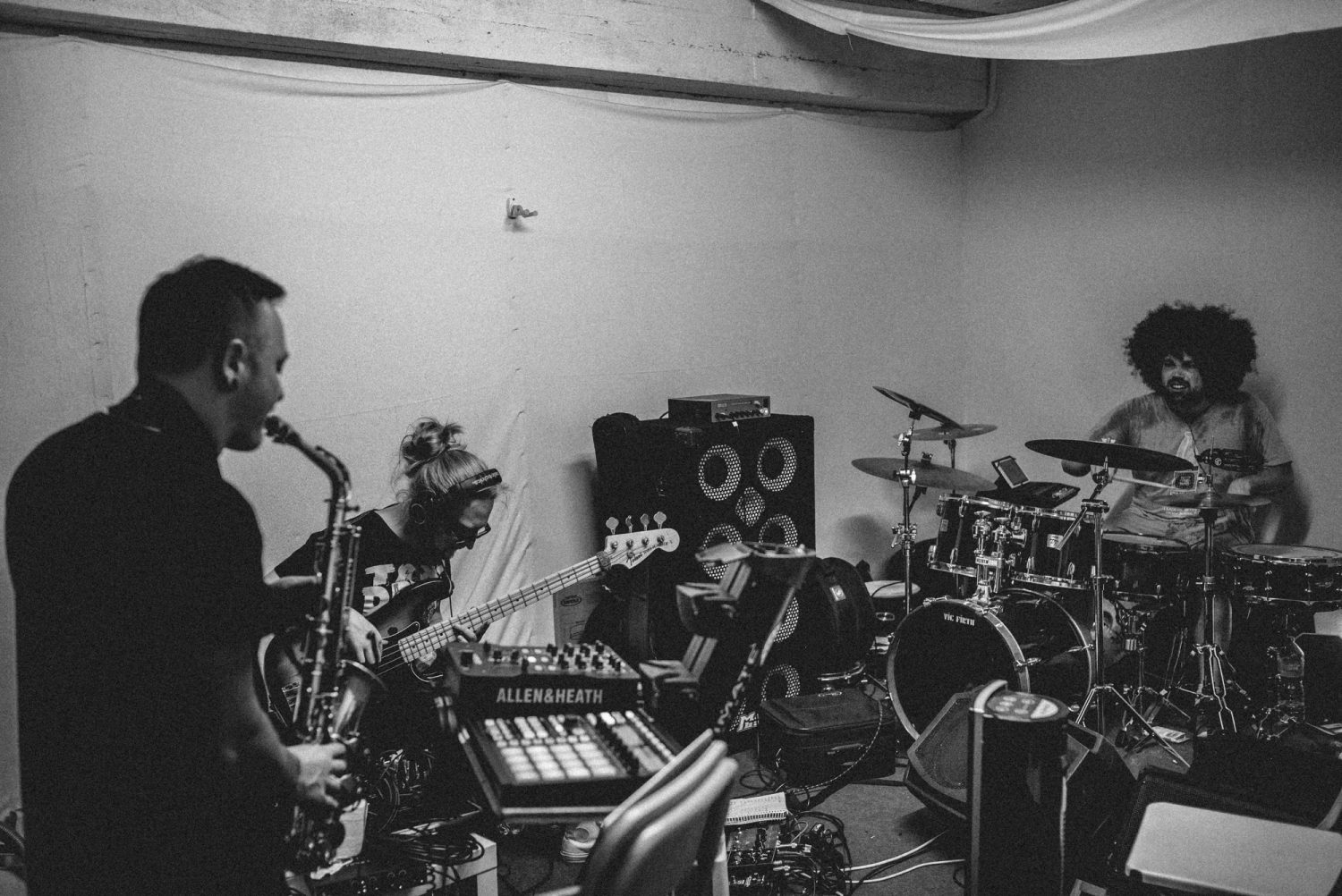 Behind the boringly accurate title of the Introducing album, there's the establishment of

WYL

: a newish three-piece band from Germany on Wadada Records. From next week onwards, they will tour through their home country in cooperation with HHV Records & The Find Mag, to present their crossover between today's beat scene and influences such as jazz, funk & soul.
(Cover Photo: Robert Winter)
Let's start off with something easy: can you please introduce each of WYL's members?
Leon Mache a.k.a. desl, 30 years, based in Berlin. He plays bass, guitar, and is doing most of the mixing and mastering of our music. Then there's Leon Raum a.k.a. Niño, 25 years, based in Bielefeld, who plays drums and all sorts of other instruments. And last but not least: Marco Zügner, 27 years, based in Wuppertal, on saxophone, keys, synth, and he is our head of backing-track.
Is WYL the first musical endeavor from you guys, or any solo projects in the past or on the side?
Marco and desl studied music in Osnabrück together. Together with a singer, they co-founded a band called Relaén. Niño joined the band one day and for many years we've played as Relaén. At some point, the three of us decided to start a new project with a slightly different approach to music. So now, we are trying to work more in collaborations with other producers and emcees we like. Besides WYL we are all part of different bands and projects such as Bokoya, Henrik Freischlader, Gianna Jatho, Protokumpel… just to name a few.
"We try to improvise over a fixed loop. This gives our music the consistency and bounce that hip-hop needs. But it secures the craftsmanship and musicality expected at a jazz concert."
You mentioned changing your approach to music: WYL seems to balance between beatmaking and live influences such as jazz. What do you learn from beatmaking that you now put into playing music? And the other way around?
Interesting question. The main answer is definitely "playing a loop." Jazz music traditionally consists of musicians letting go in improvisation with a fixed part in the beginning and at the end. We try to let go over a fixed loop – just improvising at certain spots. This gives our music the consistency and bounce that hip-hop needs. But it secures the craftsmanship and musicality expected at a jazz concert.
In terms of what we put into beatmaking what we've learned from playing music live is "balance." When producing music, we all have structures that we fall back to. But when playing music together, these structures get exposed and refined. To the point that we can find these refined versions in our productions.
That sounds like an interesting study in itself. Any particular albums you've learned a lot from?
Dexter's The Trip and Illa J's Yancey Boys gave Niño the biggest breakthroughs in hip-hop drumming; just by playing along. For Marco, it was D'Angelo's Voodoo and Roy Hargrove's The RH Factor, especially when it comes to groove and timing. But he started off by playing along to dubbed old school hip-hop tapes from his friend's older brothers. For desl, the whole Hi-Hat Club collection by Melting Pot Music changed his way of making music.
And in general, for all of us: artists like Danger Mouse, Apollo Brown, Anderson Paak, The Roots, J Dilla, Portishead, A Tribe Called Quest, D'Angelo, Roy Hargrove, and a lot more who shape(d) our sound.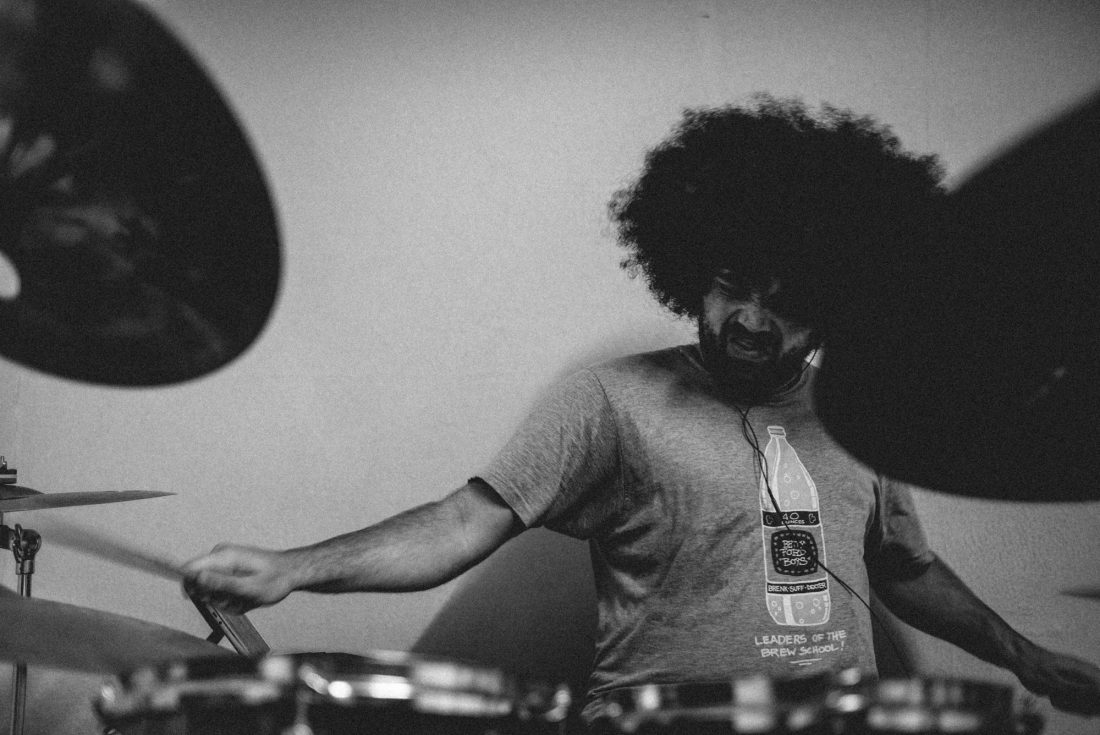 Is sampling a part of WYL's sound, or do you strive to play everything live?
One could say that when working on WYL tracks without producer features, we barely use sample loops. But we're really liberal when it comes to sampling overall. For example, we use a lot of drum samples. And in our collaborations, we always use some kind of sample by the producer. The same goes for remix tracks; we could consider the voice tracks to be a sample. Kind of.
And when you do collaborate, such as with Wun Two and Cut Spencer on Introducing, how does that change your creation process? What do they bring to the table? 
The main thing they changed in the production workflow, was the starting point. Usually, it takes us quite some time to find an initial spark to inspire us all to work in the same direction. But Cut Spencer and Wun Two both gave us samples to do just that. We also specifically listened to their music to aesthetically position ourselves close to them. We didn't need to change much in our process, but getting the sample and relating to their music definitely gave us a sense of direction.
And last but certainly not least: what can people expect of the German tour which starts next week?
The best of both worlds! We prepared a colorful mix of beats, jazz, and rap. We already announced Cut Spencer, Wun Two and AzudemSK as our guests, but by the looks of things we are going to get some more guests on stage, different from city to city. We're also looking forward to the beat sets where Cut Spencer and Wun Two are going to show us what they have been working on.
24/10 Rekorder, Dortmund * ***
25/10 Triptychon, Münster *
26/10 Sputnik, Paderborn *
27/10 L'arabesque, Bielefeld *
29/10 Monarch, Berlin ***
30/10 Conne Island, Leipzig ***
31/10 Studio Bar, Hildesheim
01/11 JuZ Bingen, Bingen am Rhein **
02/11 Leitstelle im Dezernat 16, Heidelberg **
03/11 Roxy Club, Köln * **
* Cut Spencer
** Wun Two
*** AzudemSK