2011 was a busy year for the street art world, with some remarkable activity by cats like Roa, Ludo, JR, and especially Spanish artist Aryz. In fact Aryz is, in my opinion, the street artist of the year.
Aryz was born in Palo Alto (California) but from the age of 3, grew up in the suburbs of Barcelona. At a young age he showed interest in the graffiti scene and quickly joined up with a local crew, mostly painting characters between his partners' letters, but due to a finger injury (watch out how you press that cap, kids) he began to combine the spray can with brushes. This move kind of ended his relationship with the other writers, but it also led him to try more ambitious pieces and to create more characters, since he still finds his lettering to be mediocre.
Nowadays the Spanish muralist is known for his gigantic paintings, preferably placed in abandoned factories so he can "paint without being disturbed or disturbing others". On these large surfaces he captures a personal universe of melancholic, obscure and reflexive characters or grotesque skeletons and wild strange creatures loaded with organic shapes and a touch of surrealism with a characteristic color scheme.
Aryz believes that style must adapt to technique, thus he is spreading his artwork to paper, canvas and fabric using graphite, oils and silkscreen, embracing the new challenge of painting in smaller sizes.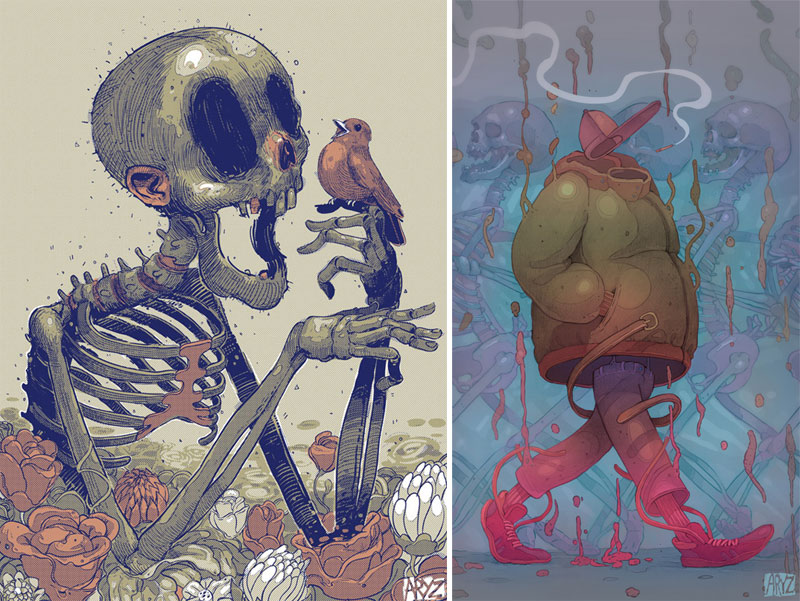 Aside from the members of his collective, Mixed Media (formed by Grito, Kikx, Poseydon, Rostro and RGTD) he has collaborated with other artists like How & Nosm, Nychos (crazy combination if you ask me) or Smash137. From Spain to Poland, Italy, Belgium, Portugal, USA, Finland, UK… not bad for somebody who describes his first piece as a big disaster.
So what's next? Currently, if you are around Barcelona, you can visit his late solo show Hello World at the Montana Gallery until the 21st January. Also expect plenty more dope work in the future from this young artist with a very bright future.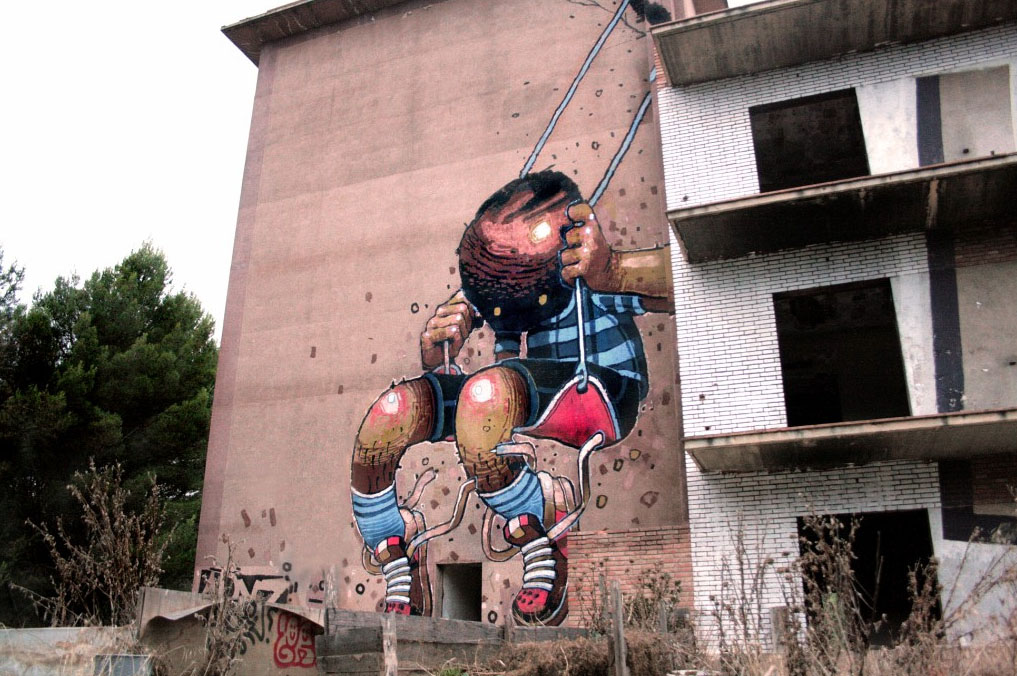 If you want to know more, check out this video of the Concrete Walls Project where he explains a bit more about his story. For more artwork you can check out the process of his limited edition silkscreen print for the Montana Shop & Gallery Lisboa 2nd anniversary here.
—