Breaking Down The Breaks #1: Aeon Seven (Funk Feature)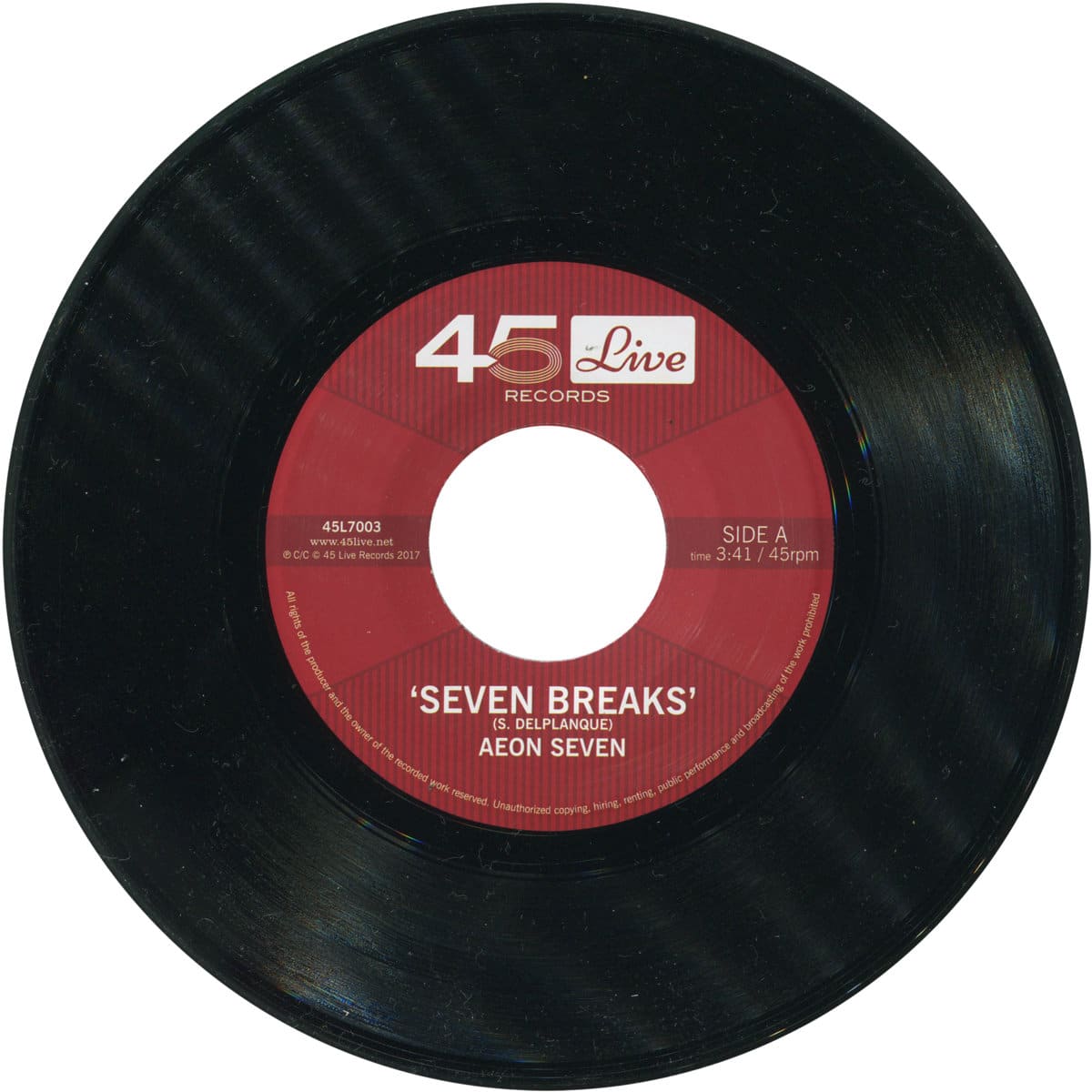 Our series Breaking Down The Breaks highlights a drummer's all-time favorite breaks. From the best grooves to sample origins.
Cosmic Thrill was my first introduction to the work of French turntablist and producer Aeon Seven. Showcasing his extensive knowledge on hip hop breaks, funk 45s and obscure samples, the 35-minute mix became a starting point for me to discover a whole lot more as a novice funk appreciator. 
Aeon Seven's newest release is the aptly titled Seven Breaks 7″ (pay attention: it's almost sold out via Bandcamp…). Recently complemented with an official video, we asked him to talk about seven records that have been used in the "Seven Breaks" animated video, which you can view at the bottom of this post.
Aeon Seven: "The idea behind the video was to pay tribute to the drummers and the breaks they left us, and also to simply share records I love."
Read along for Breaking Down The Breaks:
1. The Meters – The Meters LP (Josie Records, 1969)
For me, this record represents the landmark of the funk I love. And as we're talking about drums, the name of Joseph 'Zigaboo' Modeliste comes up first. He is considered an innovator and known to have defined the New Orleans style of drumming in the funk scene. No need to mention that he has been sampled by many hip hop producers..
Despite the fact that my favorite drum break is from "Hey! Last Minute" which is not on this LP but on Struttin' (1970), their self-titled LP is one of my favorite records ever.
2. The Soul Seven – Mr. Chicken / Cissy's Thang 7″ (Soultex, 1969)
This is the first rare 45 ever that put me into the Deep Funk game. I found it at a record fair in Paris circa 2001, from a British seller. I already knew this 45 as it had been compiled by Soul Patrol Records in 1996, then on Funk Spectrum, a BBE compilation in 1999 by DJ Shadow and Keb Darge, and finally as a 12″ with the fantastic work from Eothen "Egon" Alapatt (Now-Again Records, 2003).
It instantly grabbed my attention as it has something in common with my artist name. It's a killer double-sider that features a break on "Cissy's Thang" performed by Wendell Sneed. It brings me into Texas Funk and specially to Mickey & The Soul Generation, but that's another story… 🙂
3. The Leaders – (It's a) Rat Race – Instrumental (Superstar, 1971)
https://www.youtube.com/watch?v=vy7–dIJjtE
No open break here, but it's my favorite funk 45 I've ever owned. I grabbed it on eBay around 2003 in a VG+ condition. I didn't see that one very often in the last 15 years. An intro full of horns, tight and clean drums, a groovy bass pattern, wah-wah guitar, horns that turn psychedelic, and a mystical flute that lead me into a second state!
I don't know if someone ever sampled it and released it on vinyl. Maybe I will one day, but I love it so much that I don't wanna touch it. Or perhaps just a clever cover version… You can find the track on Egon's True Soul compilation released in 2011, a crazy well-crafted 4xLP. Very well documented, as you can expect from Now-Again Records.
4. J.C. Davis – A New Day (New Day, 1969)
I had the chance to get a copy of this record a few years ago. There's a special thing about this one, as it appears on the interior collage of the emblematic Endtroducing album package. At that time, back in 1996, pre-internet era, I had no idea of what this 45 would sound like. It was only when Josh Davis with the help of Dante Carfagna released the J.C. Davis Complete Mus-I-Col Recordings LP in 2005 on his Cali-Tex label, that I first heard it.
A banging open drums break, catching organ gimmicks and a heartbreaking saxophone line… it instantly ended up on my most wanted 45 list. It has been used—well, more precisely: wrecked—by a few artists by just rapping on the whole track. Most popular by Justin Timberlake & Will.i.am with the song "Damn Girl" back in 2006, in a very pathetic way… I've read that they were recently served with a lawsuit… Suckers!
5. Soul Patrol – Peter Pan 7″ (Zuma, 1971)
I discovered this beauty in the early 2000s through the compilation Funky Music Is The Way, released in 1996 by French label Soul Patrol Records. You can go wrong with the unofficial way his releases came out, but frankly, label owner Nicolas Magneron was the first one to do it. Even before Keb Darge's legendary deep funk compilation.
Check the track list, it's just crazy! It allowed me to discover so many funky gems. Ten years ago, a good friend of mine got me a copy in Near Mint condition. It starts with a fat open drum break with reverb, followed by a nice bass/guitar/organ combo, and then horns come in that literally blow your mind! To me, this record really defines the words "Deep Funk". The whole thing here is about horns all throughout the track, until the hypnotically fading ending. The drum break intro has been sampled by DJ Shadow in "Divine Intervention".
https://www.youtube.com/watch?v=EXAF5ybVtxI
6. Bernard 'Pretty' Purdie – Soul Drums LP (Date, 1968)
https://www.youtube.com/watch?v=ESpGlYrVlb4
The track "Soul Drums" is one of the fattest breaks I've ever known. Bernard "Pretty" Purdie is considered to be the world's most recorded drummer, as well as a hard-hitting drummer. The open drum break appears several times throughout the track, and got a big amount of reverb which makes it sound so huge! I used it for my mash -up track "Lesson #7" back in 2005.
7. James Brown – Hell LP (Polydor, 1974)
I chose this LP for the artwork, which just fits in so well at the very end of my video. Needless to say, I had to finish with the King of Funk. You can peep Clyde Stubblefield playing into the animated TV screen, and also the Soul Pride 7″ and of course Funky Drummer 7″, which remains one of the best drum breaks ever recorded. James Brown and his extended family brought so much to the world of music, that nowadays you can still feel his legacy in any kind of music.
Watch the video for Aeon Seven's "Seven Breaks":