Hello. Surreal is back (Interview + New Music Premiere)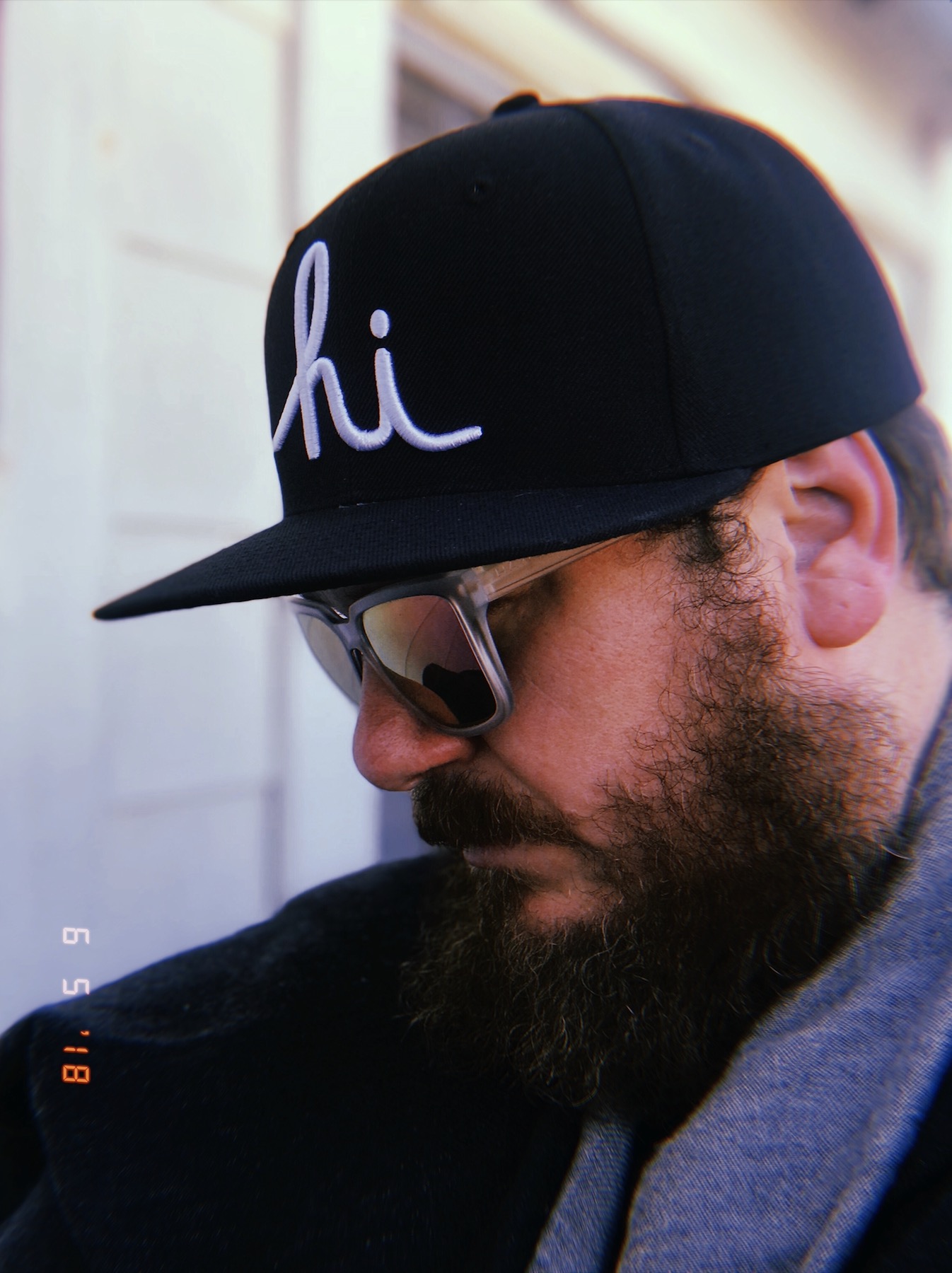 It's been ten years since we've heard from Surreal. In the mid-2000s, the Los Angeles-based emcee/producer became a hip-hop backpackers' favorite (I miss the term "backpacker"–sorry not sorry for inappropriately using it) with his music together with The Sound Providers and DJ Balance. But poof: after 2008's Pardon My Dust he all of a sudden seemed to have disappeared.
Now Surreal is back. I was genuinely impressed when he sent me four brand new tracks two months ago. His music seemed to have matured: the productions are even more organic and free compared to his older work. Serving as a backdrop for "that old man's wisdom."
And here we are. The official announcement of long-awaited new music by Surreal. His new album, HELLO, will be out on October 26th, 2018. Surreal: "It' s me saying hello to my fans after such a long hiatus. Me saying hello to my inner child in true self for the first time. And through me, the universe saying hello to a culture that's all but forgotten to love themselves."
Watch the new visual for self-produced title track "HELLO" below, followed by an interview with the man you've missed. A Q&A trying to squeeze in a decade into a brief text:
Let's start things off lightly. Releasing a "comeback album" must be terrifying…
It's a little unnerving. But I honestly haven't gone anywhere, so I am just really excited more than anything.
It's been exactly a decade since your last album, Pardon My Dust with DJ Balance. I know it can be a hard question to answer, but can you try to explain what got you out of releasing music? 
That's actually a great question since it's been a journey for sure. I had my son in 2006 and didn't want to be an absentee father, so I went to film school in 2007 to try to forge a future for myself and my family. One that didn't involve me traveling as much.
I spent upwards of ten years focusing on the art of filmmaking, which is a really difficult endeavor. I needed all of my focus, so leaving music became a non-priority for me. In the meantime, the state of music changed rapidly and the distribution model totally dissolved. So I had no urge to put music out. That seemed like just a void and a fruitless pursuit.
So you're still focusing on filmmaking these days?
I'm a fulltime filmmaker and I'm a professional colorist, editor, and director. And more recently I have gotten heavily into scoring commercials. So it's very relevant to my work as a music artist. I also write campaigns for large brands as a creative director, so my skills in diction come in handy.
"I've been talking to Soulo [of The Sound Providers] and he is very interested in getting back in the lab. We're gonna reach out to Jay and you could see a potential release in the future."
Based on the four tracks from HELLO I've heard, it seems like your music has really matured. Much more 'organic' than your older work. Do you consider yourself to slowly move away from, let's say, "traditional hip-hop"? 
To a certain extent, yes. It's not that I chose to depart from quarter-note stuff. I've just grown very heavily by living in Los Angeles. There's legitimately something in the water here… It's a very enlightened place and a lot of the masters from all over the world–especially the east–would make their way into America through the city. Leaving behind things like yoga, meditation, mindfulness and all types of practices that are very different than what most of the country was involved in, especially in the 50s and 60s.
My understanding of frequency and rhythm has grown greatly through my life practices. It was just a natural evolution, but I'm still very much rooted in snapping drums and mellow melodies. I don't think it's any less interesting–especially when it's done with thoughtful intention. I think people like Black Milk and Oddisee are great examples of how you can take what people would consider "traditional hip-hop" to the next level. In fact, this is very much my approach.
Also, I think culture is returning to a place where they want to hear from masters and not just the young. We spent a long time celebrating youth in the past decade, and it's no coincidence that all the older-brother archetypes are starting to come to the forefront because the entire world needs some good advice from their elders.
Besides your productions, how do you feel like your own writing–if that's the case–has changed over all these years?
Another great question. That's why I love The Find: you guys actually care about the artist. My writing has evolved just like I have as a human. You learn as you get older. Saying less is a lot more effective. And in a culture desperately seeking answers, posing deeper questions is really the answer. It's all about dialogue for me at this point.
I'm not offering any kind of certainty to anyone; I'm asking a lot of questions. And yes, the style of writing has evolved because I have been writing a lot more narrative stuff. When you start writing screenplays with a beginning, middle and an end, that can change the way you see poetry.
"I believe there are so many bands out there who are influenced by the early golden years of hip-hop, who make their music from a perspective of growing up on breakbeats just like I did."
Back in 2011, in an interview for our print magazine, you mentioned you left most of the productions up to the producers you worked with. Now you seem to do a lot of your beats yourself. 
I've been making beats since about 1997. The first group I was in was called Double Helix and I produced the lion share of the beats on the Soundproof album as well as executive produced the entire thing. But when I met The Sound Providers and some other producers, I really just inhabited the role of emcee. It was a good feeling to just be able to focus on writing, but I've been making my own music from the production side for over 20 years.
I don't play any instruments per se, I would have figured my way around keys. I know enough theory to be dangerous. I'm very particular about who I make music for. I'm not really producing for anybody at the moment but I would love to work with some artist.
Which track would you consider an underground gem which influenced you a lot?
Really funny, when I read that question this was the first song I thought of. It's an odd one, and it's not that it's anything crazy. It's what the song was about and where I was as a human when it came out. Which kind of encapsulates where I am as an artist.
Since I was young, I've always been attracted to women who didn't fit into the social norm of who I was supposed to love. I couldn't have been more than 18 years old weeping when I heard this song. It felt so familiar to my life experience.
What music do you listen to a lot recently?
Music is in a really good place right now. I believe there are so many bands out there who are influenced by the early golden years of hip-hop, who make their music from a perspective of growing up on breakbeats just like I did. Hiatus Kaiyote, Kraughbin, Anderson Paak, Son Little, Moses Sumney, Daniel Caesar, Chance, Fly Lo, Black Milk, Oddisee, Deca… so many great musicians, man.
And to take that question all the way back: what are your earliest memories of listening to music?
I remember being maybe 6 or 7 and my mom listening to Carlos Santana, and very specifically the song Europa. She was playing air guitar and the room smelled of "funny smoke". [laughs] My real father is an exceptional guitar player; he played in bands his whole life. Both of them were heavily into fusion music. I remember them being huge fans of Return To Forever and Weather Report. My mom was enamored with anyone who could play guitar really well. She introduced me to George Benson, and when I made it all the way back and sampled him for "Stroke of Genius" it felt like a déjà vu. I'm really grateful there was soulful music in the house.
Your albums with The Sound Providers and DJ Balance were quite well-received around a decade ago. How's your relationship with them these days?
Those my brothers, man. I love them as humans way before anything else. Soulo and I got together a few weeks ago when he and his wife were up here where I live in Redondo Beach, L.A. We were all teary-eyed at breakfast sharing memories and life together. Soulo has children now, so does Jay Skills. And of course, I have my son Isaiah now. I've been talking to Soulo and he is very interested in getting back in the lab. We're gonna reach out to Jay and you could see a potential release in the future.
What can you tell us about your upcoming album? What to expect in terms of guest appearances and producers? 
Most of the productions will be mine, and mostly all the verses will be me. But as of now, I have locked down productions from Exile, Marco Polo, and Dert Beats. And one more that is one of my favorite producers in the entire world whom I've yet to reach out to, but I'm confident he will work with me.
On the mic, it's mostly just me. And a few people who were singing–one especially is my brother Israel Bell. The one feature I will have is from the brother yU from Diamond District. In my opinion, he is one of the greatest living songwriters in the world.
Welcome back, Surreal. What are your ambitions and plans from here on out?
I am back for sure. What's really dope is that with my skills as a filmmaker and visual artist, I can give the audience a complete audiovisual experience. My plan is to continue to make music and art that can affect culture in a beautiful way. Music that can start difficult conversations. The upcoming album, HELLO, is very much about mental health and getting in touch with our inner selves. Healing and transmuting are shadows there for helping our entire civilization grow to a more holistic place. Hello, world.