Guest Mix & Interview: Astroboter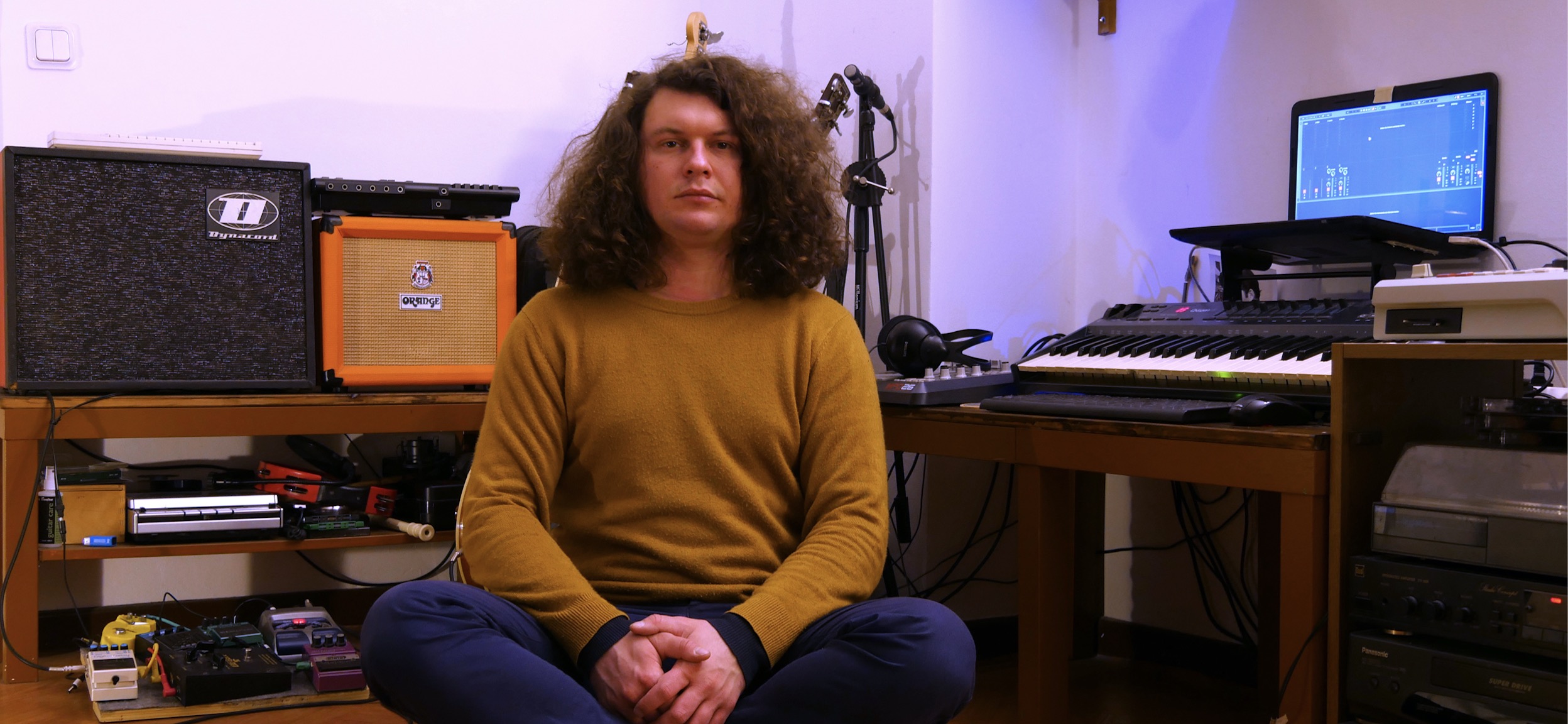 With his alias self-described as an "energy-based entity" and music coming out of a Psychedelic Dungeon Studio, Astroboter is quite the enigmatic figure, solely based on his output. Besides that, his new concept album Form & Void is quite otherworldy: a dark mixture of krautrock, trip-hop, ambient & post-rock, exploring a fictitious story about the little robot. 
That's why I thought it was about time to talk to the German producer to make it all a bit more tangible. Especially since it's been a long time coming: I can call myself a fan of his carefully crafted productions since the Beat Sutras series, a hip-hop-oriented beat project which started in 2012.
What do you do for a living? Is it in any way related or relevant to your work as a music producer?
I'm working at a creative agency as a digital project manager. My job is to get stuff done with a bunch of creative people, which is fun. Since I'm working with creatives, it's great to learn about different approaches and perspectives day-by-day. And I've met Maya there. She's the designer behind the artwork for Form & Void. I even started a new band project with one of my old colleagues.
About the city itself: It's in Düsseldorf, one of Germany's Krautrock cities. I'm passing the old Kraftwerk studio— Mintropstraße near central station—daily. It's nice to search for the ghost of Krautrock. The city has a good-going music scene, so it's a cool inspiration.
What are your earliest memories of hearing or listening to music?
One of my earliest memory happened in my childhood. My parents and I migrated from Upper Silesia (Poland) to Germany. I guess I was around four when we went to a German public party. It was unusual since my parents were not heavily in contact with the German culture back then. There was a stage and a band was performing. I remember, running away from my parent's table, up to the stage, dancing, clapping and laughing around. My mother told me last year, that she was super embarrassed due to the cultural differences and being in a—for them still— foreign country. But I remember, that the people were laughing and we've all had fun. It was a positive, early feedback loop.
My parents are no musicians, but they love music. It was always a nice mix, with my mother being into different 80s pop artists and my father provided the Led Zeppelin, Black Sabbath, and Polish Psychedelic Rock induction. Later it came naturally during puberty, to break away from these shackles into—yes, those were the days!—Nu Metal bands like Limp Bizkit, Papa Roach or Deftones.
The other big paradigm shift came with the debut album by The Mars Volta. I've discovered a ton of music, movies, and books thanks to them. This band has also led to getting to know Maymun, one of my music digger friends. Which is funny, because there is a prominent sample on Form & Void, which I've recorded during a trip to Istanbul with him.
"I like to record sounds, instruments or voices and build soundscapes, then destroying them completely, only in order to use them again in a complete different context. You can hear it a lot on Form & Void."
No wonder you mostly name bands, as live instrumentation seems to be essential for your productions. What's the balance between using live instruments and, for example, the MPC?
When it comes to live instruments and the MPC, it's 75/25 for my full-length albums, mostly guitar, bass, synthesizers and the MPC. With my hip hop beat tapes series, Beat Sutras, it's 90% MPC. I only add effects and mix later in Ableton. And with my Ambient releases, it's mostly guitar and synthesizers. But with—for example—Ambient Collection – One I've recorded the complete B-Side onto an 8 Track tape recorder alongside a framework generator I've programmed. I like concepts, so I'll always try to find a frame for each release.
And I like to record sounds, instruments or voices and build soundscapes, then destroying them completely, only in order to use them again in a complete different context. You can hear it a lot on Form & Void.
In the Form & Void press release you say each song contains cultural references. Can you name three that have influenced the album?
One of the best video games ever made is Max Payne. It's a game, a novel, an audio-masterpiece, and a movie. This game influenced the whole Astroboter story I've played out for my debut album and Form & Void. The complete package is the only real Film Noir I've ever wanted to see. The characters are rich, the story connects Mythology and the classic New York style in an original way. The title theme is simply amazing, I still get goosebumps listening to it. I've played this games for hours and hours (thanks to my brother Kevin, who has let me play on his computer, which was way better than mine). I really got sucked into it.
It's tough when it comes to movies. I have my long list of favorites, but if I have to give you only one: Un chien de andalou. It's a 1920's movie by the surrealists Luis Bunuel and Salvador Dali. I was seventeen and came home late at night, was super-high and lucky to catch a special on Arte about the 100th birthday of the surreal master. Then this movie came up and this guy is cutting the woman's eye in the first scene. Like the cloud cuts the moon. WTF? It freaked me out completely. I couldn't sleep that night and the next day I've gone into research. This changed a lot. It was during the time when I've discovered The Mars Volta and this has led to a newly ignited interest in different cultural roots and waves.
My favorite author is Jack Kerouac. His books helped me to enhance my perspective on life in general during my twenties. Every October it's "Kerouac Month" for me and I'm re-reading his books. It's nice to reflect, to re-feel where I was when I've read his books for the first time. 
The title of your Beat Sutras series refers to Buddhist and Jainist scriptures, and for your new album you describe Astroboter as an "energy-based entity". Are you a religious or spiritual person yourself?
No. At least not that I would describe myself as a religious or spiritual person. I mean, the universe has something, whatever you want to call it. Whether it's really one of—or even better—all of Earths' gods, or it's a physical phenomenon, but we don't have the means to discover and measure it yet. And the feeling of listening to music, the feeling of family and friendship and doing what you love, comes into the near area of this. Here I like to follow the thought of Camus, who said that even if life itself doesn't have a meaning, we can strive for and give it a meaning. This is my kind of life-compass.
The energy-based entity I see in Astroboter, is a bundle of energy which we all can feel. Since it's ours – or better said – yours, it can be whatever you want it to be. You know, it's the spark in ourselves.
"I can already hear my friend Maymun saying 'Yeah David, you've ripped The Mars Volta'. [Laughs] Of course man! Like they've ripped all the other greats before."
Is there anything you strive for with your music?
Simply to be able to make and release music, especially since making music is the best meditation for me. And since the internet and modern music business allows artists like me, publications like yours, to do our stuff and share it with the whole world, I'll release my music. So please keep The Find Mag on, man!
I'm not thinking in financial terms when it comes to my music. Of course, it's part of the game, but hearing from a person—for example—in Brazil, that my music is good and has a meaning for them: that is the value, the true diamond. Giving back what I've received from all the artists I admire. 
The influences on Form & Void are quite diverse. Which albums are essential listening, that you consider being big influences for your own work?
The Mars Volta debut is an essential. Add their second record, too. I can already hear my friend Maymun saying "Yeah David, you've ripped The Mars Volta". [Laughs] Of course man! Like they've ripped all the other greats before. What We Must by Jaga Jazzist is an album, in which I discover new stuff all the time. Man, there are—if I remember right— nine people playing at the same time on this album. Yet the music itself and especially the mix is balanced in a way, I've seldom heard on a album made after 2000.
Throw every …And You Will Know Us By The Trail Of Dead record in there; they still remain my favorite active rock band. Another big influence on this record was Fragrant World by Yeasayer. I still cannot wrap my head around their production techniques. It's a record where melodies and technical sound tricks build the foundation. Yet it's—if you strip it down—a simple pop record.
But there are too many records out there. The complete Krautrock stuff, Library Music and Psych, indie bands like Dinosaur Jr., Hüsker Dü or Interpol. So much good Beat producers and experimental stuff. Classic Rock like Led Zeppelin or Stoner Rock like Kyuss or Fu Manchu (shout-out to my dad!). And since I'm a heavy Spotify user, I've discovered a true void of Ambient artists…
I mean, you know how it is: a never-ending stream of stuff to dig into.
Whom would you consider an underground artist which influenced you?
My friend Kabanjak. He's one of the best musicians and producers I know. He's the man behind the complete composition, recording and production of his outlets Kabanjak, Ancient Astronauts and Deela. Versatile in sound and style. There is no other producer like him in Germany—at least the ones I have on my radar. I'm thankful for his mentorship and inspiration. He introduced me to a ton of music, books, and ideas. It's nice because he's also involved with Form & Void. He took care of the mixing and I've recorded a ton of stuff in his studio during my time as a catsitter years ago, while he and his lovely wife went on holidays. 
Hold up, before we come to an end with this interview, let's talk about hip hop for a second. Any (new) stuff you like to listen to lately, worth recommending?
Oh yes! The Magic radioshow by House Shoes on Dublab is a steady provider of the hip hop and beat style that I like. I've discovered the track "Wraith Ful" by Conway The Machine there. Also the Anchovies album by Apollo Brown and Planet Asia, which was my last summer's steady-player. The last cut by Prodigy is good. Also the last drop by Jadakiss. But really, I'm waiting for the next album by Freddie Gibbs and Madlib. Shit, they have to drop Bandana soon! They can't let us wait any longer!
Their first collabo will stay as one of these legend records with me. Now, with Gibbs at his best level ever, this will be a crazy rap record. I've seen Gibbs last December with one of my brothers live in Cologne. He has a unique raw aura and power. And I guess that we both can agree on Madlib…
Lastly, how does your "Psychedelic Dungeon Studio" look like, where all the magic happens?
It's like the Holy Grail in Indiana Jones – very simple, a carpenter's studio. It's a bedroom studio and thus I'm surrounded by all my personal stuff. I've rearranged it after finishing the production on Form & Void. Now it's all-level, which means that I'm all "Indian-style sitting" (this is a real translation for the German "Schneidersitz", I'm not kidding.) Everything is more or less above my chest. It's very open now and has a lot of natural, southern-side light, but I still haven't produced any new piece of music in it yet. I have all my records and books in view sight, which is also new. I like it already because it reminds me visually of my influences.
I have all my guitars, effects, controllers, amps around me. Alongside my laptop, the MPC2000XL is the center station of the Psychedelic Dungeon Studio. Like I've said, it's simple and not high-tech. I've never had a ton of gear and I still play the guitars I've got during my teens. I don't see the many reasons to buy anything new nowadays, but if I do, I make sure to have quality equipment and I'm always taking care of it.
So, if you'll ever visit the dungeon, the only rule is: No drinks above Level 1!
—