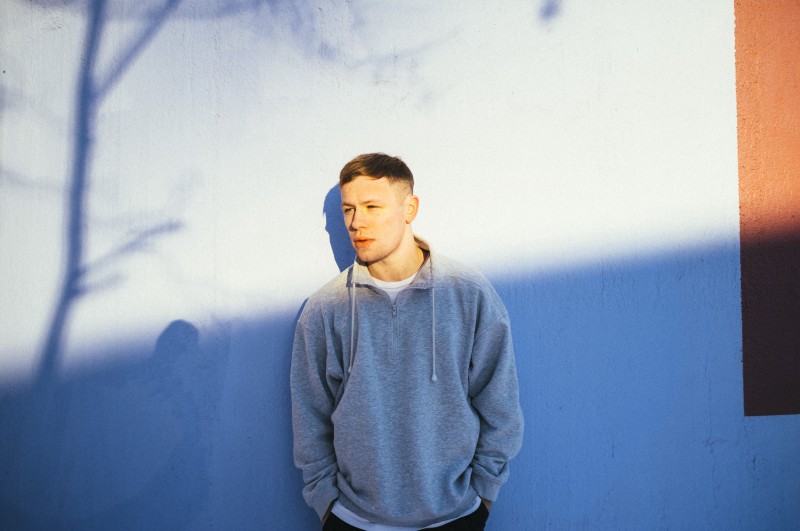 Ivan Ave almost single-handedly put distant Norway on the hip hop map, partly thanks to some high-quality releases with Fredfades. The real breakthrough came with the Low Jams EP on German label Jakarta Records, with Stones Throw signee Mndsgn behind the boards.
A sharp tongue, a distinctive voice (it's mostly the voice, as Guru said) and stellar productions from the crunchiest beatmakers around didn't hurt either. Last year's killer album Fruitful with Fredfades and Helping Hands with Mndsgn are his latest endeavours to conquer a spot in the collective memory of hip hop heads around the globe, far beyond Norway's borders.
(Words by 72 Soul | Photo by Even Suseg)
Tell us a little bit more about The Brains EP that was released in 2009 under the moniker Ivy League — was that your first step as an emcee?
I didn't think anyone knew about that EP outside of our circle in Oslo. That was my first vinyl release, with the homies Deckdaddy, John Rice and Fredfades on production. That was definitely a big step at the time. To this day I'm proud of having linked up with the Oslo SP Ensemble, which is the name they operated under together. But if I heard those tracks now I definitely wouldn't like how I sounded back then. I was still learning about cadence and flow, still learning how to write verses, and my English was kind of elementary. The beats still knock though, somebody recently played me a couple of the instrumentals.
That's my crew. We're really just a circle of friends who felt like we needed to organize in order to create waves in the local scene, as well as on an international level. We're basically an Oslo-based family of visual artists, DJ's and musicians. Charlotte Dos Santos and I write songs, Fredfades and Yogisoulproduce music, and Stian Stu Nicolaysen is a manager and PR god, as well as our spirit animal. On the visual arts side we have Mohamed Chakiri who is a brilliant photographer, Erik Treimann who mostly does video art, and Hans Jørgen Wærner aka Dirtyhans who does all our graphic design.
You've had quite a busy year last year, most notably collaborations with Fredfades for Fruitful and a feature on his Jazz Cats album. Which album "came first" recording-wise and what would you say is the main difference between working with Mndsgn and Fredfades for you as an emcee?
I worked on all these projects simultaneously, but Helping Hands with Mndsgn was the one I worked on for the longest. The main difference is I spend a lot more time with Fred because we live in the same city, and have been really good friends for a long time – not brothers, like a lot of people think, but almost. So anything we make together comes from a long process of listening to records and DJing, me vibing out while he makes beats, him getting a feel for what I'm writing about, etc.
So the Fruitful record was a true duo project; we would discuss designs and conceptualize a lot while the record was taking shape. With Ringgo (Mndsgn) it's more of a long distance relationship, but it's eerie how in tune we are when it comes to vibes and aesthetics. We're working on some new stuff now, so we'll see. I definitely feel privileged to be working with two of my favorite producers of all time.
Are there any special themes or subjects when you write, what inspires you lyrically – or is there a message you wanna spread?
I try to keep it very honest and close to home. If the message of a track rings true to me or my friends, I feel like it also has the potential to resonate with people outside of my city or country. I don't go into a song feeling like I want to spread this or that message, but my agenda is to always keep it true to what's happening in my life or in my surroundings. Inspiration comes from that, as well as books, movies and other types of music. For the Helping Hands record the theme is basically ego versus togetherness, freedom versus belonging.
As it's been 10 years recently since J Dilla passed: how does his legacy influence you as an artist?
I have issues with how he's been fetishized. I feel like a lot of people wear those "Dilla Changed My Life" shirts, when really what they mean is "Dilla Changed My T-shirt." It's like his name and his legacy is being co-opted for other reasons than his music being the truth. That being said though, Dilla did change my life through his art, so who am I to be hating on these fools?
Most of your releases are available on vinyl — is that important for you, to have that physical format?
I'm a vinyl head, collecting and DJing is a big part of what I do. So releasing my own music on wax feels necessary. It's also a trip, seeing my babies in record stores. Definitely a dream come true, for every release. Jakarta Recordsis a great home for me, and I'll be putting out records for as long as I feel that itch to transfer shit from the soul to the turntable.