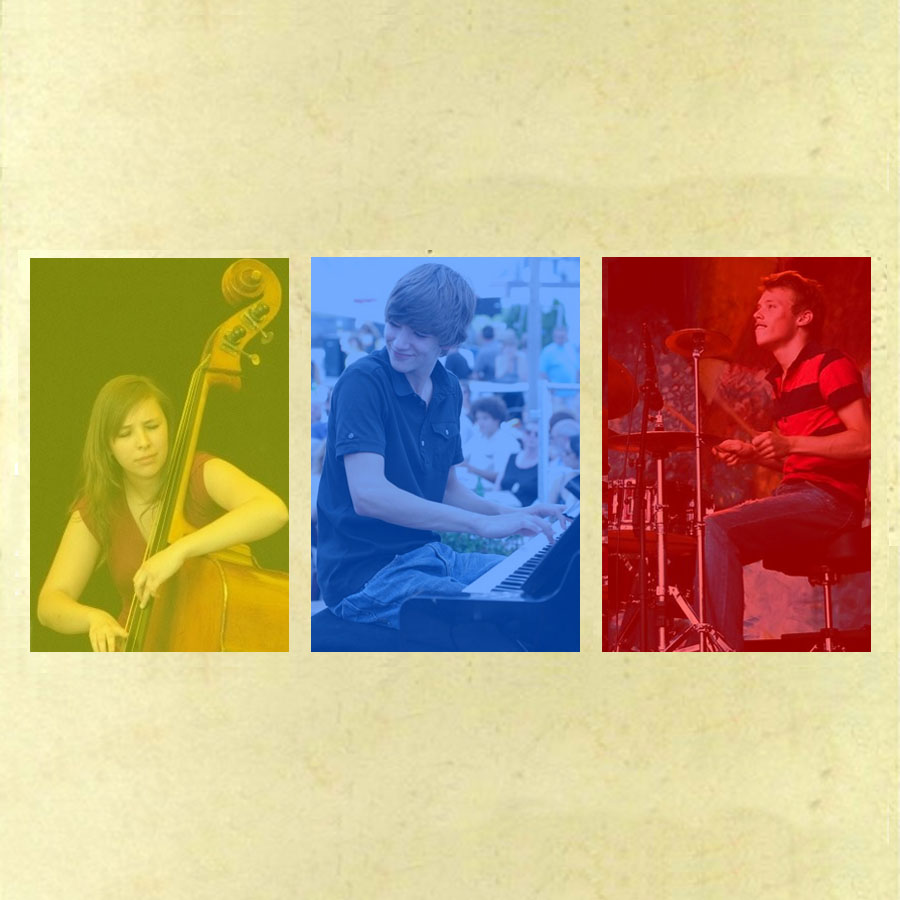 They're young, they're very talented: they're LABtrio. A jazz collective from Belgium with a clear musical vision and ambitious plans. We met drummer Lander Gyselinck to talk about the trio: "We bring urban-influenced Jazz, jazz that flirts with the underground culture. With our music we try to be a breathe of fresh air to Jazz and its audience."
They're young, they're very talented: they're LABtrio. A jazz collective from Belgium with a clear musical vision and ambitious plans. We met drummer Lander Gyselinck to talk about the trio: "We bring urban-influenced Jazz, we flirt with the underground culture. With our music we try to be a breathe of fresh air to Jazz and its audience."
As relatively young artists, do you also try to reach a younger audience with your music?
If we make music, we don't think about the audience we will or want to play for. It's the musical 'trip' you're in as a composer, that will decide the final product, not the crowd we'd like to play for.
Nowadays I'm also working on Hip Hop, Beats, Electronica and more established music, different than the organic compositions, jazz and classical music we normally play, but very interesting nonetheless. 
 I can understand if that's attractive to a younger audience, but in general that's really balanced, since most appreciators of jazz are older. Our repertoire includes some jazz standards we give a twist to, so the context changes a little bit, but the listener will still understand what kind of music it's all about. LABtrio brings urban-influenced Jazz, jazz that flirts with the underground culture. With our music we try to be a breathe of fresh air to Jazz and its audience, which we do by playing more than just jazz standards as 'All the Things You Are'.
How do you see Jazz in ten years?
Jazz exists for almost 100 years now. Evolution and improvisation are the most important aspects to me. Hopefully jazz heads will talk less about jazz in 10 years, but discuss more about how it can evolve into something new, that'd be real jazz to me. To me, it's all about thinking about 'that isn't jazz anymore'.

Photo: Lander Gyselinck
(studying Jazz at Brussels Conservatory, KCB Second Master, by Stéphane Galland)
What can we expect of LABtrio's first demo?
A musical journey of eight pieces, fresh compositions and some pimped jazz standards. We created this demo with music from our repertoire of the past two years. Our own compositions are more modern, but the jazz standards as 'Nardis' or 'How My Heart Sings' are close to the original, although we 'tuned' the groove and the harmony. We change the feeling, we create interludes of pieces from other standards. You can call it jazz sampling.
How do you know eachother and why did you decide to play with the three of you?
Three years ago Stefaan De Bevere, ex-coördinator of the Jazz Department at the Academy of Music in Antwerpen (Belgium), organised some meetings between young musicians. There was a certain chemistry between us back then, and we are all growing because now we're getting more and more experienced. The ideas get more interesting and because of that the interaction between us is getting stronger. We kept playing together after that meeting and won several contests as Dexia Classics and this year the Brussels Jazz Marathon. We won awards for Best Group, an audience award and prices for best soloists (Bram De Looze and Lander Gyselinck). In July we even got the chance to play at the Jamboree Jazz Club in Barcelona (Spain)!

Photo: Anneleen Boehme
(studying Jazz at Den Haag Conservatory, Third Bachelor, by Frans van der Hoeven)
How was it to be a fan of jazz back then, while other kids in your age group listened to, in example, pop music?
I'm only a big fan of Jazz since I'm 17 years old, before then I was into music as Zappa, Beastie Boys and old school Hip Hop. I like it to have some sort of 'hidden agenda', or a different taste in music. I created my own world with things I liked, not because it's in the charts that week.
For Bram, our youngest member, it was different. He already knew a lot of Jazz and played on jazz stages in Dworp (Belgium), where he met our other member Anneleen, and he had a circle of friends who were into jazz as well. When we met one thing was for sure: Bram and Anneleen are two phenomenal musicians!
So next to jazz, there are more musical preferences from your youth?
Yes, definitely. Like I said before, I was more into Hip Hop. At the age of 12 – 18, I was active with breakdancing in the crew Psycho B-boys from Gent (Belgium), after that as drummer. I did music for our shows, created mixtapes and I was a DJ for rapper Melopee for a while. Next to that Mixmonster Menno introduced me to turntablism, so Hip Hop, Electro and Funk are definitely a big influence to me personally.
And nowadays it's mainly Jazz, or still music like you mentioned before?
Right now I'm really into artists as Hudson Mohawke, Flying Lotus and Georgia Anne Muldrow. Electronica, Drum 'n Bass and Future Beat inspire me big time, the energy is unique and I try to create that energy in LABtrio's live performances as well.
Can you name important influences for Anneleen and Bram?
Anneleen, who did classical music education for quite a while, is heavily influenced by classical music. You can hear that in her performances: self-control, the discipline to gain perfection and unequalled punctuality.
Bram is known as a harddisc ripper: he knows a lot of music, has an open minded vision on Jazz and everything related to that.

Photo: Bram De Looze
(studying Jazz at Lemmens Institute, First Bachelor, by Ron van Rossum)
What do you think of jazz-influenced Hip Hop?
Jazz-influenced Hip Hop is the shit. At least, if it's done correctly. Not too clean, I definitely want to hear that raw sound in it.
What makes LABtrio unique, compared to other musicians, disregarding your young age?
Our young age is undeniable and most of the time the crowd admires that, but we don't care about that at all. We are three friends making music we love, we like what we are doing: age is absolutely not important in what we're doing. The opposite, actually: it makes it more difficult for us. The audience is quickly charmed by seeing three 'youngsters' playing Jazz. The more enthusiastic they are, the less critical. That means we have to be critical to our shows ourselves: every song, live or recorded, needs to be done. Music is a medium to listen to, we do everything we can to bring that to the highest level. That's our main focus, not our age.
Anyway, back to the question. The formula of our three different personalities, three different backgrounds. That is what makes LABtrio unique.
The chemistry, the collective goal to mix Jazz, improvisations, interaction and inspiring music of other cultures and genres. That formula needs to bring the same product as a beat by Madlib, a theme of Wayne Shorter, or a Goldberg variation of a Bach piece. In no case we want to be 'just a trio' with only one great solo playing individual.
Jazz is a genre where the soloist gets a lot of credits, lots of times even more than the music of the group itself. To me, that means music disappears to the background. The chemistry, the magic and the teamwork gets lost. It's better to have three musicians making weird music, than three schooled jazz kings who fight for their musical territory in a trio. Historical example: Trio of Doom (John McLaughlin, Jaco Pastorius & Tony Williams). Great trio, but an instant fight between musicians for their musical territory.
I emphasise the collective element, like in a bigband or orchestra and maybe even in some rock groups. That way the music is better: the result is made by different individuals, which is as like an intercity train: his direction is clear, pointless to discuss about that. Egoism, especially in improvised music, is a downfall for a group – no matter how good you play.
LABtrio is a musical marriage that keeps balanced between individual influences and the collective musical story.
Any musical expectations or goals for the (near) future?
We experiment and record with a producer called Jerboa, a friend of mine. He's an open minded producer with a clear vision. LABtrio will try things with Fender Rhodes instead of acoustic piano. A dope sound inspires us to write new things, you can call it urban-influenced.
The most important thing is that LABtrio keeps evolving. If that means we need to get inspired by listening to Rick Astley, so be it. But it's very rare that that will ever happen, haha…
—-
Words by: Wim / Danny
More info: Lander (drums), Bram (piano), Anneleen (bass)
More: Jazz
Stay tuned for LABtrio's first official demo, which they'll release very soon!