The Beat of Bokoya (Interview)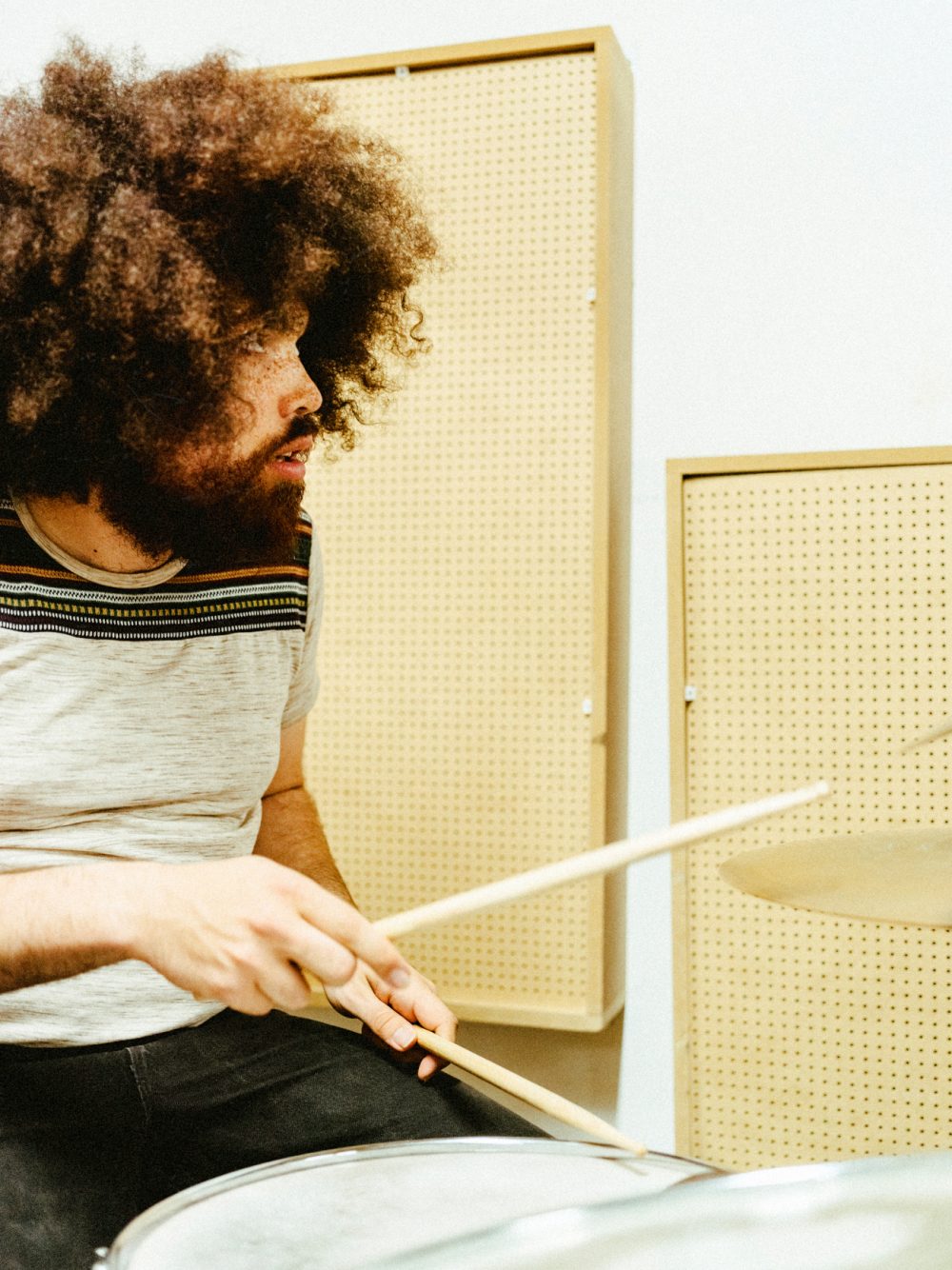 Wadada Records

is on a roll. After introducing

WYL

, this December it's jazz/hip-hop band Bokoya heading out on tour in Germany. With The Find being a partner for the tour, it makes for a good reason to dive a bit deeper into their beat-driven sound.
(All photos by Robert Winter. Top: Leon Raum)
Your bio says you play "if [you] grew up inside a drum machine." To which extent are you guys experienced with beatmaking yourself?
I think we all programmed some beats for ourselves, but still, we're mostly working as instrumentalists. The thing about the drum machine is just that this kind of loop-oriented music had a huge impact on all four of us. And we together felt that the field between 'mechanic repetition' and 'human creativity' has a huge potential. So, we are basically just trying to play like this. But in the end, we are just human brains acting and changing things in that surrounding.
But back to the beatmaking: especially Leon and Ferdinand are actually mixing and producing more. Leon also mixed our record. He even showed us some of the first songs he made on his computer when he was 12 years old—singing and playing keys and guitar… Crazy guy!
Wait, one of those names sound familiar, since there's a bit of overlap with that other Wadada Records band: WYL. Who is who in Bokoya?
We got Leon on drums, who is also our connection to the Wadada-family and WYL. Lukas a.k.a. Luki Love plays guitar and bass. He is the connection to Leon since they started playing together when growing up in their hometown of Bielefeld. Lukas then went to Cologne where he met Darius on keys and Ferdinand on trumpet, where they studied jazz together at the Conservatory of Music. They also played together regularly since they were 14 years old. That's how we got together.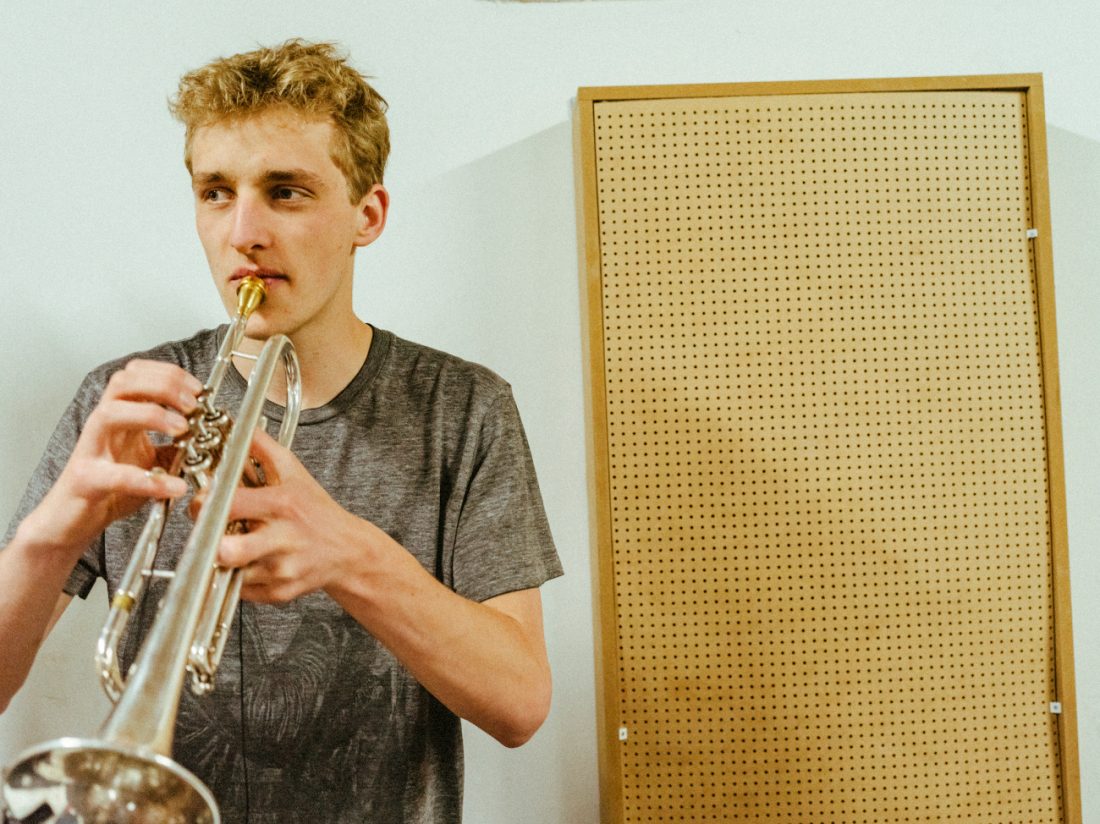 Do you feel like there's a new wave of hip-hop beatmaking shifting more to a live rendition such as jazz and improvisation? 
There is definitely something going on. Since both worlds are heavily influencing each other, the lines between them are getting blurry. Among jazz and improvising musicians there's an admiration for the power and finesse of beats. But concerning the fixed and loop-based character of hip-hop beats, we're trying to combine beatmaking with the improvisational aspect live on stage. And in the studio as well.
"Loop-oriented music had a huge impact on all four of us. And we together felt that the field between 'mechanic repetition' and 'human creativity' has a huge potential."
Which artists who manage to translate hip-hop grooves to a context of live instrumentation are big examples to you?
Definitely the three guys of the Hiatus Kaiyote rhythm section, Swooping Duck. Then trumpeter Marquis Hill, Robert Glasper, The Roots, Erykah Badu, and also lots of jazz artists who are influenced by the traditional way of beatmaking. There's too much beautiful music out there to name!
To make that a bit more specific: which albums are essentials to you guys to develop yourself as a musician; maybe even when it comes to improvisation?
When it comes to hip-hop: The Low End Theory by A Tribe Called Quest, Dilla Joints by The Roots, D'angelo's Voodoo… These albums are timeless classics. Their smooth and driven groove and vibe never cease to inspire.
And regarding improvisation: Herbie Hancock's Empyriaen Islands, Agnostic Revelations by Jacob Anderskov, Seven Seas by Avishai Cohen, and Bill Evans' Interplay. The way these guys listened, reacted and played—always with power and meaning—is very fascinating.
Some other honorable mentions would be Conversions by Kruder & Dorfmeister, Massive Attack's Mezzanine, Portishead's self-titled album, and New Decade of Dub by Jah Shaka. Which are all albums rooted in Dub or drum-and-bass that are really inspiring to us.
Last but certainly not least: what can people expect of your

upcoming German 

tour 

How is Bokoya live?
We always try new things in our live shows. Some concerts are completely improvised, but we also might redo some of the improvisations that finally became our debut album. In a way, we're playing some songs from our album, but always in a new shape and different context. There's always a direct relationship between our playing and the venue or the audience we play for. So, for example: if we happen to have a smooth and calm setting, we'll probably play more relaxed music. But when we're playing in a club it might get more danceable. Join us, we're really looking forward to the tour!