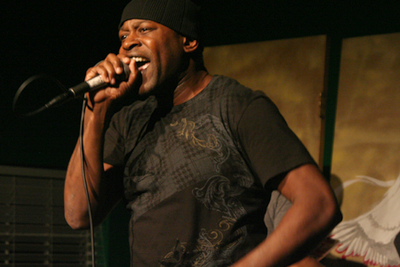 A few years ago I stumbled across a 1998 album called 'Imaginarium' by the Bay Area MC L*Roneous Da Versifier. As soon as I hit play, I knew I had found something special. The gritty beats by DJ Zeph perfectly complimented L*Roneous' effortless abstract flow.
His style has been described as reminiscent of Del tha Funkee Homosapien, The Pharcyde, and Freestyle Fellowship. The story telling throughout the album is fantastic and to this day I consider this album a slept on classic of 90's hip hop. Well, L*Roneous is still around, and still making music. In fact… he is making more than just music.  He took some time to have a word with The Find Magazine.
Who are you?
My name is… well, i suppose that depends on the situation. I am an artist. I am independent hip hop recording artist LRoneous. It is the reason I am 'known' in the first place. When I release my book later this year, I want to known as Tyrell LaRon (at least, for literary endeavors), which is the name my mamma gave me.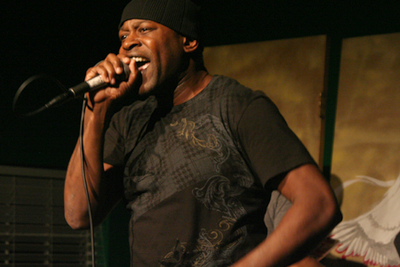 What does rapping mean to you?
There are many angles and ways to do it, but it's easiest described as rhythmic expression.
Imaginarium is one of my favourite rap albums of all time, I was blown away by your flow, rhymes, and subject matter when I first heard it. Did you have earlier work?
Before Imaginarium, I was in a hip hop band called Last 2 Serve. We ran the San Francisco hip hop scene in the mid 90's and released an EP ('Magnetic Personalities' available on iTunes) before we broke up. from there I formed a partnership with Gennessee and released the 'Double Life' single 'Revolutions'. A year after that, I was fully on my way as a solo artist.
How did you develop your MCing style?
I developed my style with my former band, Last 2 Serve. Practicing and styling with a live band is possibly the best working out of lyrical prowess I can think of. It didn't hurt that we were under the tutelage of a now legendary jazz group, The Broun Fellinis (their critiques truly helped to mold my style).
What hip hop projects are you working on these days?
I like to keep things on the low until they're close to being complete, but let's just say I have close to 9 projects that i'm working on. My next release will probably be a collaborative LP with Gigio, an upstart emcee out of the bay area. Then it's on to my literary endeavors.
Tell us about your literary endeavours…
My literary aspirations span even further back than my emceeing ones. When I was a kid all I wanted to do was draw/create comic books. That was my first dream. In my head was a bevy of super powers, aliases, fictional towns, characters, scenarios, etc. There was one slight problem though – I can't draw. This crash land, plummeted my lofty ideas of being the black Stan Lee. But on the flip side, somewhere around the fifth grade I got into reading books, a la Ray Bradbury, and writing. By the time I went off to college I was writing poems, short stories, and of course, raps. Then one day I sat down and wrote a short story (not for a grade, or school or anything like that, but as a personal project) and let a girlfriend read it. She loved it. And although I knew it wasn't terrible, it wasn't exactly as good as I'd like to believe either. I did prove something to myself. I could write as well if not better than I could rhyme, which was exactly what I was working on. That gave me the mental foundation to continue building my skills and say to myself 'one day…' Well, that one day eventually came and now I have a book of short stories, titled 'Sketches of a Straight Line', coming out in December (the audio book is available now at Bandcamp).
What do you feel is the relationship between literature and rapping?
In my opinion, they are both integral cogs in the wheel of written expression. Literature is the highest form of wordplay. Rapping is one of the craftiest styles.
What was the last song you heard that really blew your mind?
It was a whole album, and to this day I still play the album in it's entirety. Aceyalone's 'A Book of Human Language'.

What is your favourite animal?
Humans (preferably women).
If you could have a super power, what would it be and how would you use it?
I would like to posses psionic powers like Professor Xavier of the X- Men. I would definitely use my powers for the 'greater good' of the world as I see it – not discounting the mischief I would get into.
______
Stay tuned for more L*Roneous projects in the near future and make sure you check out the two latest free EPs L*Roneous put out; Roller Coaster & The Cliff Notes.