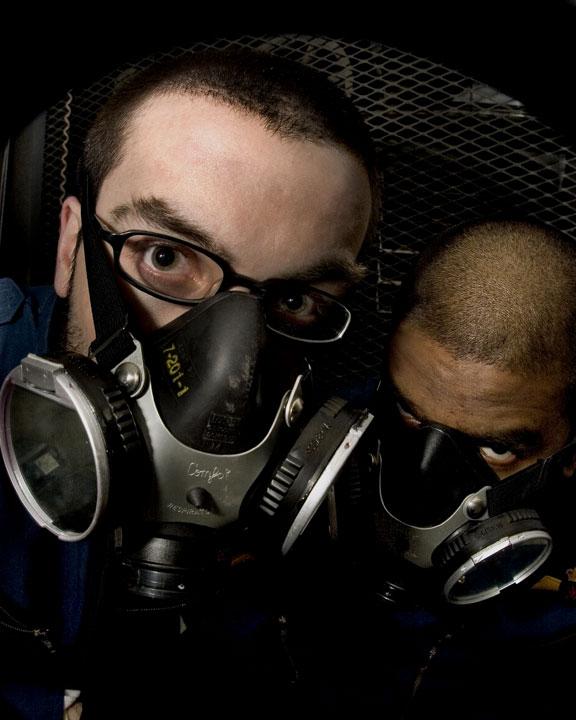 Meet Magnolius, a creative up-and-coming hip hop duo from Toronto, Canada. With their most recent album 'Mary Musth', the crew has gotten quite decent recognition. And why not? Track after track of mind-blowing mic performance and instrumentals like you've never heard before. Magnolius: "hip hop is better than it has ever been and we're just here to make some cut-throat new sh*t."
Meet Magnolius, a creative up-and-coming hip hop duo from Toronto, Canada. With their most recent album 'Mary Musth', the crew has gotten quite decent recognition. And why not? Track after track of mind-blowing mic performance and instrumentals like you've never heard before. Magnolius: "hip hop is better than it has ever been and we're just here to make some cut-throat new sh*t."
Music: Magnolius – King for Hire
Let's start off by letting people know who you are..
Derek DaCosta: Hello.. I'm Derek DaCosta. I rap with this guy Shan Vincent de Paul. We make albums and tour and sell t-shirts…
Shan Vincent de Paul: and stuff.
Its no secret: your sound and content are much more experimental than others. What are you're inspirations for this fresh sound?
Derek: Inspiration comes from all over really. The MAG (Magnolius) scope is pretty wide and I think that's the reason for our music being 'experimental' cause we're trying to please so many different interests with each project. More specifically with writing, I think it's even wider of a scope cause you have film, literature and just general words and phrases that pop up. So it's hard to say exactly. We both used to be into a lot of Ras Kass (laughs) 
Shan: Yeah, it would be pretty hard to pinpoint a specific source for inspiration. I guess the sound itself would just be something that just develops over time. Things always sound better when you let it take its natural course. We're always trying to come with something the people haven't heard before, of course we'll be influenced by our favourite artists but at the end of the day, we're not trying to sound like anyone else. We're not trying to 'take it back' to any era, we're not here to 'save hip hop', hip hop is better than it has ever been and we're just here to make some cut-throat new shit. 
You gave us a little introduction on 'Mary Mary', but who's Mary Musth and why did you choose this as an album name?
Shan: Mary Musth would be somewhat of a bully character. Kind of the opposite approach we took with the first album, which revolved around a more introspective personality. I think after we finished the first record, we felt like we had to get some things off our chest, and the concept of 'musth' just worked perfectly. From the first 8 bars in to the album, you can tell that its going to be a much more aggressive album then "ode to hyde".
Derek: It is way more aggressive. With the last one, we kind of paced ourselves and took little satirical stabs all throughout, while Mary is a bit more direct, non-stop to the face. start to finish. It's as if she had a terrible day and just cracked. Like Michael Douglas in Falling Down, you know. That concept appealed to us at the time and now that the album's done and out, it's like a sigh of relief. We got it out of us.
Now that you've dropped your second album with indie success, what's next for Magnolius?
Shan: We're thinking of retiring. Then making a come-back with a quadruple LP called 'The Retirement'. Then retiring again sometime in 2016. Then coming back again with a retirement documentary about how our first two retirements were fake. Hopefully, that will lead nicely into the actual retirement ceremony, where we'll announce the release of our second last album.
Derek: (laughs) Seriously though, we have a ton of things in the works. We're already busy with a new project which is kind of like a MAG 2.5. It's a little closer to what we plan on messing with in the near future, so It's more of a bridging between sounds I guess and It's entirely produced by up & comer RAM!, formerly Demelo Melod of Soliva, who we've both known for years. The guy's a real synth junkie, so there's definitely more of an electronic sound, still rooting from what we naturally do, just more of a Megaman spin to it. Look up RAM! on Myspace and you'll get an idea.
Shan: Other than that, we'll be living on the road for most of 2010. We have a stream of shows booked out in Brazil, right after the Carnival frenzy. Also gonna be heading back out to Asia with a few events in Singapore, Taipei and Japan. And, of course, can't forget home. We're always trekking across Canada, so there will be more of that with the definite inclusion of some US dates and then I think we're good to consider retiring.
Here's a question I've been dying to ask – what's with the elephants?
Derek: The elephants are linked to the name "Mary Musth". Besides that, I think they're really just a visual representation of the energy in the songs, and it's always best to let the picture speak for itself, I think. Especially with this cover. It speaks some truth about the record on its own. You just have to soak it all in. Visual and music.  And just for the record: the elephants don't represent us, contrary to some belief.
Music: Magnolius – Ennui Go (feat. Perilelle)      
Which artists are you currently feeling and would you want to work with them in the near future?
Shan: We're pretty picky in terms of who we'll get on a track, so we have very minimal vocal guest appearances or emcees. We have the project coming out with RAM. That's a collab that's long overdue. We're looking to cook up some stuff with our friends Svelt St. out in LA as well. That should be dope. On top of that, we're heading back to Brazil in 2010, so we'll definitely be connecting with some heads there.
Derek: There's always mention of some possible collab here and there, but when it comes down to it, we work best in a situation where there's a real vibe to work off. Whether it's just MAG or we happen to connect with another artist, there's always a genuine vibe there. I think the last thing we're going to do is buy a verse from someone for clout or whatever. If someone is on a MAG track, it's because we've at least met. (laughs) They're like family right. It's that and the fact that we don't have the 80 grand to front Bjork on a track.    
Do you think it's more challenging and harder to get your name out coming from Canada or do you think in today's age it's not true?
Shan: I think the past couple of years have been great for Canadian hip hop, from an international standpoint. I don't think anyone would have predicted that one of the biggest up and coming acts in hip hop history would be from Toronto. So it's definitely a good look. With that being said, the infrastructure within Canada itself is weak and still developing. You have very few major labels in Canada willing to invest in hip-hop despite the growing numbers in the genre. Even the major music festivals in Canada continuously give hip hop the short end of the stick. It's quite sad actually. Fortunately we have a lot of talented independent acts that are taking matters into their own hands.    
Derek:  Very true. And unfortunately, some acts just skip town and jump south cause it can get to a pretty crummy level. Artists have been doing that for the longest time here. Like what Shan's saying, only now we're slowly starting to see artists penetrate that sphere. And even still, some of them are completely America-dependent. But it's definitely evolving. The business side of things just needs to catch up with the talent standard cause the amount of seriously tight music coming out of Canada has doubled or tripled over the past couple years. Dudes in suits are behind right now.
Fast forward five years in the future: where do you see yourself as artists?
Shan: on a spaceship.
Derek: Neil Armstong and Buzz Aldrin of rap.
You've most probably had a lot of opinions on your music – what was the worst thing someone has said about your work?
Shan: The best and worst thing combined was when some guy stormed out of our show in Windsor (Ontario), while we were doing 'Love Therapist'. I think he took some of the lines out of context. You should've seen the look on his face. Pure disgust. I loved every second of it.
Derek:  (laughs) I remember that. I was shocked to see this guy so bothered. But in retrospect, it's great to get under someone's skin like that. Definitely pretty bad and good at the same time.  
What has to be the best thing to happen to you as an artist?
Derek: It's hard to say at this point, but off the bat, I'd probably credit that to my deranged partner in this twisted MAG shit. Dude has pushed me to some lengths I probably wouldn't have reached otherwise. I can show you the scars.  So here's to you jimmy!   
Shan:  Yeah, let's make a toast to how good we are (laughs). But seriously, being surrounded by a whole fleet of talented artists makes this a lot easier. From a career standpoint, I don't think the best has happened yet, we're still growing and we still have a lot to do. We'll see what happens.
—
Words by: Beatwize
More info: Magnolius
Buy/Download: Mary Musth (Album)