Pick Of The Week #3: Hocus Pocus (New track)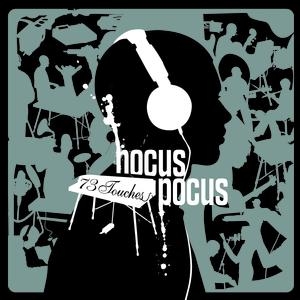 This time it's a brand new track by Hocus Pocus ft. Melodiq! The Find Magazine and Laid Back Radio are the very first who publish this single…
Due to a busy studio, we didn't have a full presentation this week. But we are back with a Pick Of The Week anyway! This time it's a brand new track by Hocus Pocus ft. Melodiq! The Find Magazine and Laid Back Radio are the very first who publish this single…
Info
As big appreciators of Jazz-influenced Hip Hop, Hocus Pocus is a prime example of music we like. The French band consists of 20syl (MC/producer), Matthieu Lelièvre (keys), DJ Greem (DJ), Antoine Saint-Jean (drums) and Hevré Gogard (bass).
They bring acoustic Hip Hop, played with real instruments. This results in mellow music with influences of genres as Soul, Funk and Jazz. Their releases 'Place 54', '73 Touches' and 'Acoustic Hip Hop Quintet' are all three definitely worth checking out. They released two albums before that, which not everyone is aware of. More about that later on! 
Don't sleep on Hocus Pocus because the vocals are foreign, because the music is great nonetheless.
Music
In 2010 their brand new album (keep on reading for more info) drops on On And On Records. Early January there will be a 12″ record first, with 'Far Away (ft Melodiq)' as exclusive B-side. And guess what? The Find Magazine and Laid Back Radio are allowed to promote this brand new track! Remember where you heard it first…
There's an old version somewhere on Youtube, but that doesn't include 20syl's verse and this is the final version in good quality. Listen to a preview here:
Full track
Click the logo below to tune in to Laid Back Radio digitally. They broadcast our Pick Of The Week (12/14 till 12/21) once every two hours, so you can hear the full track over there. So don't forget to tune in to hear it!
Or download the player for your desktop
Extra
And like every week we offer you some extra content related to our Pick Of The Week.
First we recommend you to read our interview we had with 20syl about Hocus Pocus and the upcoming release. Some quotes:
About the new release: "I have the impression that it comes a bit closer to '73 Touches' than 'Place 54′. We really tried to mix up genres even more."
About C2C: "We have the compositions for our album ready. We just have to go into the studio and record everything, but that takes time…"
About the history: "Well known artists as MC Solaar and IAM played with live instruments on stage, but those musicians weren't part of the group. Hocus Pocus is really a band with live instruments, so it was definitely unique in France back then. That time really inspired us and changed our view on music."
The interview contains a lot more in-depth information and details about the upcoming release, so definitely read our interview HERE.
Video
To end this edition of our Pick Of The Week, here's the video of 20syl making the beat of 'Far Away'. Very interesting to see the process of producing the track…
More: Hocus Pocus