The Find Rewind (Beat Tape)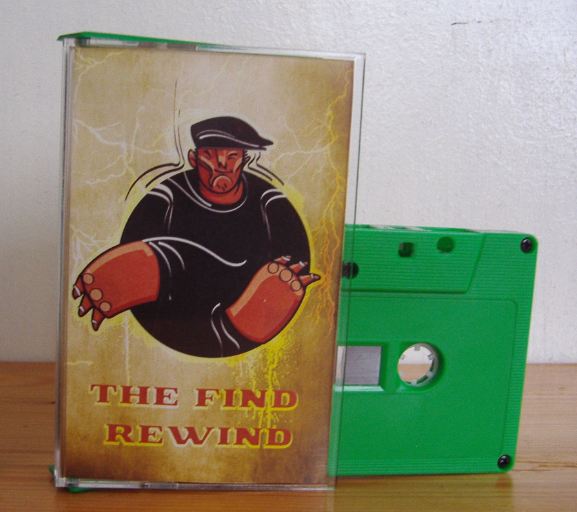 The Find beat tape with unreleased music (only on this tape) by Suff Daddy, Dela, Kev Brown, Headnodic (of Crown City Rockers), Arts The Beatdoctor, Weedy (of 40 Winks), Daru Jones, Kero One, Incise, Full Crate, Free The Robots, amongst others.
The Find Rewind is a limited edition beat tape (only 100 copies pressed) with unreleased instrumentals and brand new music by a wide array of producers. Get your copy now on Bandcamp or listen to it on Mixcloud.
Nowadays a 'mixtape' means a collection of random MP3s, a 'beat tape' is a folder with collected beats, and albums leak even before they've been released. That's why we decided to take you back to the good ol' days with The Find Rewind: a literal beat tape like it's supposed to be. It contains unreleased material by Kev Brown, Dela, Suff Daddy, Full Crate, Headnodic (of Crown City Rockers), Weedy (of 40 Winks), Free The Robots and much more artists, who all offered a track for this beattape.
Don't have a tapedeck anymore? Don't worry! Each tape contains a link to download a digital mix, curated by Doctrations. No seperate tracks digitally, but the tape itself isn't mixed, so you can enjoy each individual track to the fullest on the tape.
Extras
Next to that, Matt Andres created an exclusive packaging for the tape and we have Panacea's K-Murdock as host of The Find Rewind. For 10 dollar (8 euros), including worldwide shipping, you are one of the 100 people worldwide who owns this beat tape and the unreleased music. The Find Rewind is now available on Bandcamp, or pay directly via Paypal beneath.
Info
Side A
1. Intro
2. Incise – Aurora
3. Suff Daddy – Can I?
4. St/Mic – Combinations
5. K-Murdock (of Panacea) – Insomnia
6. Pat D – Once In A Lifetime (Instrumental)
7. Stro The 89th Key (formerly of The Procussions) – Time
8. Kev Brown – Lou
9. Factor – Snow Harp
10. Weedy (of 40 Winks) – One For Two
11. Daru Jones – History Pt. 2 (Instrumental)
12. Kero One – When The Sunshine Comes (Instrumental)
13. Jazz Chronicles – See Sides (ft. Rachel Crennell)
Side B
1. Giovanca – Free (Arts The Beatdoctor Remix Instrumental)
2. LuiGi – Calibration
3. Free The Robots – Sea Shell
4. Full Crate – Rafo's Synthsong
5. Destruments – All For You
6. Mr. Modo – Smoked Ham
7. Headnodic (of Crown City Rockers) – Thanks
8. Mr Viane (of Mr. Popcorn) – We Must Love
9. Dela – Cold World
10. Block Barley – Run
11. Matthew David – Still Forrest
12. Bun – The Wolf
13. Outro