Free Download: Jim Sharp – ATCQ Midnight Marauders Revisited EP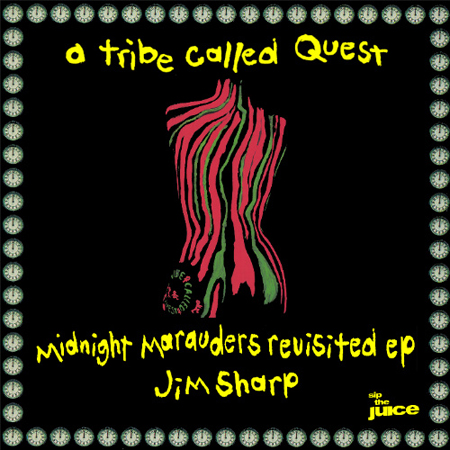 Today marks the 20th anniversary of two indisputable hip hop landmarks: Enter The Wu-Tang (36 Chambers) by the legendary Wu-Tang Clan and A Tribe Called Quest's Midnight Marauders. London-based DJ and producer Jim Sharp revisited the Tribe classic to pay homage to one of hip hop's finest albums ever made.
"I took a lot of time to imagine how Q-tip would have captured the samples, probably using a turntable and an MPC. Consciously not using pitch correct, sampling one side of the audio and bouncing it to stereo and continually trying to get the right filter, echo, pitch and sound from the original sample. I also re-imagined big sections of tracks paying homage to some of my favourite producers such as DJ Premier, DJ Shadow, 9th Wonder and Large Professor." – Jim Sharp
Nine tracks from Midnight Marauders are revisited and rebuild based on the original samples. Sharp even added extra guest verses by Biggie, Biz Markie and Nas to "Hot Sex", "The Chase" and "Keep It Rollin'," respectively.