Guest Mix: Front2blaq (WEBOOGIE) – Heep Douse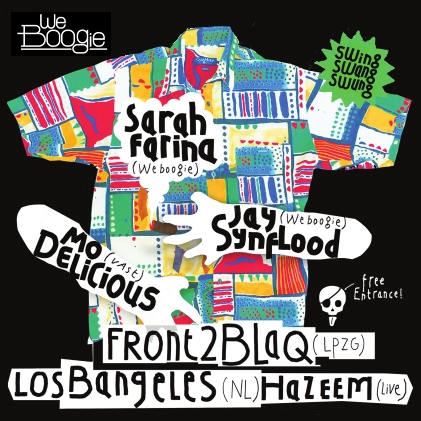 WEBOOGIE is a collective dedicated to bring the Boogie to Berlin and beyond through 'WEVENTS', a 'WEBLOG' and the WEEEEEMIXES. They celebrate New Jack Swing, Boogie Funk, 80s Disco, UK Garage, RnB, House, Hip Hop, Future Soul, Bass and Beats, but most importantly any music sparking that Boogie Swing. 
Front2blaq (Resistant Mindz, Leipzig) is known for his impeccable taste for eclectic beats, from Brazilian Bossa to Bavarian Bass. Playing alongside Rustie, Dorian Concept and Debruit, Front2Blaq earned his stripes at the forefront of the beat scene since 2008. For this special WEEEEEMIX for The Find Magazine, Front2Blaq dug real deep, to present an hour filled with "Boogable Finds".
This Thursday the 20th Front2blaq will be playing at the 3rd WEBOOGIE party in Berlin with Mo Delicious, Sarah Farina, Los Bangeles, Hazeem and a b2b set with Jay Synflood. Head over to the event page on Facebook for more info and RSVP.
01. Dorian concept – 12
02. Arp101 – Dead Leaf
03. Busy – Jellyfish
04. Etahn Goldhammer and S. Bruke – in the pocket
05. Leeux – Truckin
06. Arae- Lyon
07. Silvester – i need somebody to love tonight
08. Afronaught – Take u there
09. Seiji – i cant let it go
10. Suff Daddy- Housey
11. Miguel migs – tonight
12. Galapagoose – one who cant move
13. Anneka – technicolor (nastynastyremix)
14. Musiq Soulchild – so beatiful (lapalux bootleg remix)
15. Throwing snow and py – the shadows i make feat russel morgan
16. MCDE – Basement Love
17. Machine Drum – Roll and Feel
18. Kevin Mcphee – I will
19. Robert Strauß – spinning inside your love
20. East Liberty Quarters- Lucky Charm
21. Eliphino – no more
22. creme de la crack – albey
23. Monkeysequence19 – plummer jolly
24. Clara Hill – what for
25. Unknown – Untitled