Stream: Catching Flies – The Long Journey Home EP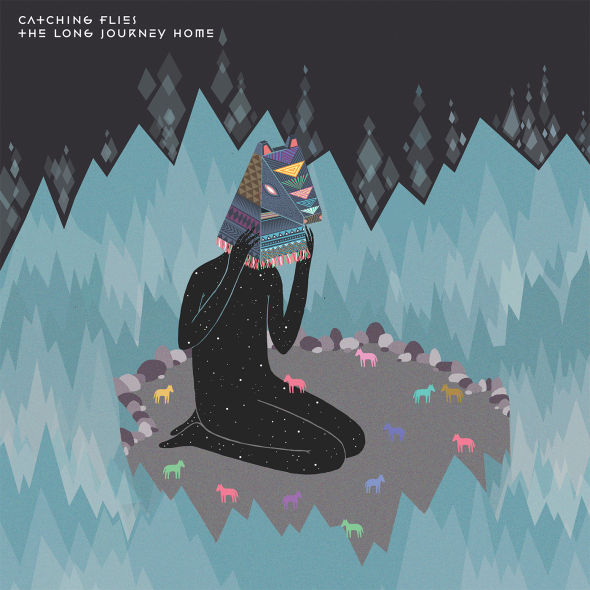 Mysterious London-based producer Catching Flies has been deep in hibernation conjuring and experimenting with sound and forces of nature to create his second EP. Now emerging to bask in the sweet summer sun, his latest opus is finally complete and upon us. The Long Journey Home EP is available on Bandcamp/iTunes and features 3 new original compositions as well as remixes from Village and Sun Glitters.
What makes Catching Flies stand out from other producers is a primal and organic sound. As is prominently displayed on the first single "Stay Forever",  soft guitar floats amid an ocean of futuristic bass elements, building slowly toward a lustrous climax of electronics and saxophone. This melting pot of natural and traditional sounds mixed with futurebeat style creates a thoroughly unique and tantalizing experience for the listener.
The cover art by Marina Muun does a great job of visualizing the sonic vibrations of the project. A cosmic super-being made of astral matter is visiting Earth, kneeling in the center of a mountainous valley and becoming one with the environment. Similarly, Catching Flies integrates his production with aspects of the cosmos while also staying grounded and intertwined with the ecosystems of Earth. Each song is soothingly resplendent, exuding a calming aura with beautiful flourishes of sound that send sparkling shivers through your spinal chord.
It's easy to kill a fly with a swift smack of a rolled up newspaper, but to catch a living fly with your bare hands takes decidedly more composure and technique. Like a reincarnated martial arts master, Catching Flies uses his music to dissolve into thin air where he can effortlessly pluck a fly from midair, pinching each wing between a thumb and forefinger.