Down a Rabbit Hole with Pseudo Slang's 'Non-Alienated: Mint Edition' Guest Mix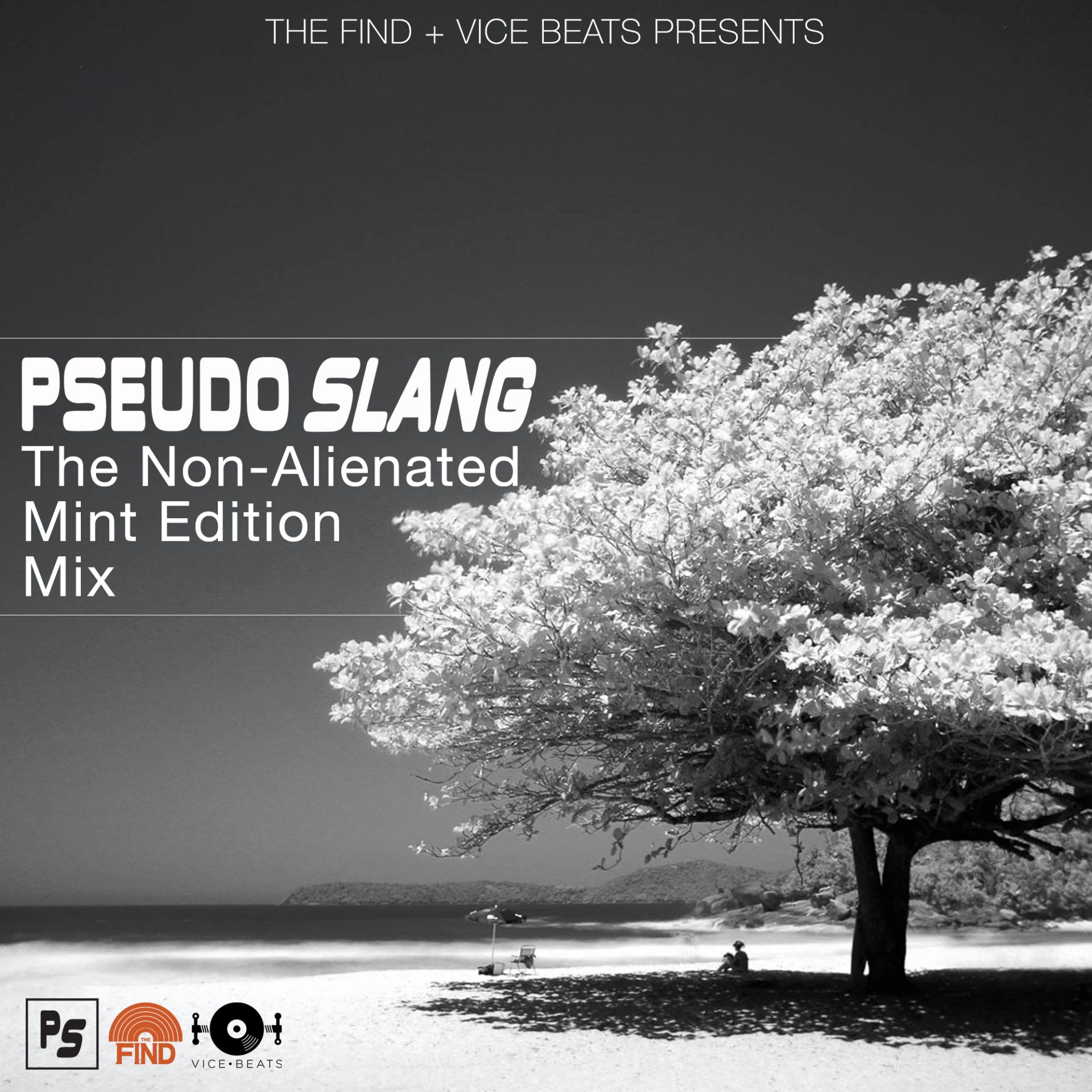 This mix—somewhere between a dubbed out music trip, and a dreamscape-y radio show/program—was sparked by Vice beats reaching out to Pseudo Slang inquiring about a "Guest Mix" before the pandemic hit our world with the KO shot.
Cudtry Cadillac, Soul Amazing, and Sickeee had started digging into the stacks at the PStudio before the quarantine was a thing, but lockdown quickly set in while the crew was already immersed in 'Non-Alienated: Mint Edition.' So, it really turned into a deep dive down the rabbit hole from there!
"It felt like we ended up just creating what we ourselves really needed," says Sick. "Which was essentially companionship – a reprieve from isolation and anxiety. This manifested in chit-chat over records spinning, which of course we consider ourselves hella lucky to have in our life, therefore the onus is on us to share that vent."
Speaking of vents, there was surely some smoke in the air during the process. Namely some alien mints a homie contributed… So then when Sick ran into Sharkula on a grocery mission he was like "I wanted to share this with you fam… *but yo* – do me a solid and call my phone voicemail and leave a drop plus a story after you partake." Thus, this is how the intro of the mix and a very dope recounting from Shark's endless well of really amazing stories came to make its way onto this saga of music and vibe exploration.
one – intro w/ Sharkula
two – Slum Village "Eyes Up"
three – Kev Brown "Work In Progress"
four – Kanye West "Heard 'Em Say" feat Adam Levine
five – Slick Rick "Sittin' In My Car"
six – Nas "Thief's Theme"
seven – A Cat Called Fritz feat Pseudo Slang "Ruff 'n' Tumble"
eight – Ugly Duckling "Fresh Mode"
nine – Maspyke "Spirit of '92"
ten – El Michels Affair "Shadow Boxing"
eleven – Maspyke "The Writer"
twelve – Pseudo Slang "Feel Me" (Beppo S. remix)
thirteen – Pawcut "Your Handsome"
(chit-chat over these following 3 instrumental joints)
fourteen – Django "Peace Akhi"
fifteen – Django "Al Naene"
sixteen – Django "Loveletters" (interlude with Sharkula)
seventeen – Michael Naura "Black Pigeon"
eighteen – Pseudo Slang x Pawcut "Wanderverse" (song)
nineteen – Xtracts of Slang "How Does It Feel"
twenty – 8th Day "If I Could See The Light In The Window"
twenty-one – Grover Washington Jr. "Knucklehead"
twenty-two – The Dramatics "Gimme Some (Good Soul Music)"
twenty-three – Quincy Jones "Summer In The City"
twenty-four – Tony Ashley "I Can't Put You Down"
twenty-five – Ronnie Laws "Tidal Wave"
twenty-six – Pseudo Slang x Pawcut "Sehr Scharf Curry"
twenty-seven – Dude26 feat Pseudo Slang "Push On"
twenty-eight – Bettye Swann "I Will Not Cry"
twenty-nine – The Dramatics "In The Rain"
thirty – Eddie Kendricks "If You Let Me"
thirty-one – John Dankworth & His Orchestra "Return From The Ashes"
thirty-two – Common "Hungry"
thirty-three – Ramsey Lewis "Bold and Black"
thirty-four – Bill Withers "Lovely Day"
thirty-five – Freddie Hubbard "Red Clay"
thirty-six – Quasimoto "Jazz Cats Pt. 1"
thirty-seven – Pseudo Slang x Rawhead "Cyclical" feat Kai Alexander
thirty-eight – Hood Smoke "Blue Janie"
thirty-nine – Quincy Jones "One Hundred Ways"