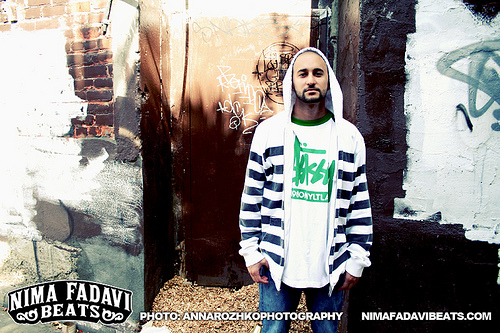 Hailing from California, Nima Fadavi heads the class of a new generation Bay Area producers. He has recently landed production on projects with Andre Nickatina, The Grouch, Pep Love, Del the Funky Homosapien, and Sunspot Jonz. Juggling several projects at a time including his untitled solo debut album, Nima Fadavi has accumulated an impressive array of original production and a unique style.
Hailing from California, Nima Fadavi heads the class of a new generation Bay Area producers. Juggling several projects at a time including his untitled solo debut album, Nima Fadavi has accumulated an impressive array of original production and a personal style.
Music: Nima Fadavi – Change Is (ft. Pep Love)
For those who are still sleeping, can you tell us a little about Nima Fadavi and where can the fans hear more material?
I'm a hard working hip hop producer from the Bay Area putting in as much work as I can.  You can hear material online at Nima Fadavi Beats.
Who were some of your early influences?
I had a lot of influences in a lot of various genres.  To keep it short I'd say some of my biggest hip hop influences Swollen Members, Dilated Peoples, Cali Agents, and Hieroglyphics.
Who were you listening to when you were a kid and what producers did you want to be like as a young Nima?
I was listening to everything really.  Outside of hip hop I've been a big fan of everything from Gipsy Kings to Alabina to Burning Spear to Bad Religion.  There was a lot of producers I wanted to be like but I tried to just let that inspire and influence me to do my own thing.
I had seen an interview where you said Swollen Members first two albums, Balance and Bad Dreams, were some of your favorites. How has the Swollen Members influenced your style. And more specifically, how has Rob The Viking influenced you?
I was always a big fan of their music as a kid and I remember meeting them at a show in Santa Cruz.  They were really humble and I actually kicked it with them for a while.  I was so inspired by meeting them that night that I decided I wanted to get more involved with music.  The way they handled business on an independent level and had so much success without any support from major radio or a major label was really inspirational. The way Rob the Viking flipped samples and kept it simple without much electronic orchestration really helped influence my production style.  It's really rare nowadays to hear a sample based producer.
Can you name some the artist you've worked with, and will be working with?
Some artists you can hear on my beats are Pep Love, Sunspot Jonz, Killah Priest of Wu Tang, The Grouch, and many more.  Lots of stuff coming out soon that I produced.  A track for Del the Funky Homosapien called 'Crystals', 5 new tracks for Andre Nickatina, about 10 new tracks for Sunspot Jonz, a lot of new tracks for Pep Love, an entire album with Sincere, and much more that's currently in the works.
You got the chance of working with two highly respected crews from the West. How did you meet the Living Legends and Hieroglyphics and do you plan on working with them again?
I met them just being at shows and being around.  I would run into them numerous times and just after recognizing me and seeing me around I started to give them beat CD's.  I haven't worked with all members of both groups but I plan on doing so very soon.  I have a lot of new unreleased music with Sunspot Jonz (Living Legends) and also Pep Love (Hieroglyphics) so be on the lookout for both of those.
Looking back at all of your work, which one stands out the most and what artist is the most fun to work with?
Some of my favorite work is with rapper Sincere.  I just produced an entire album for him that will be coming out in 2010 and I've put a lot of time and effort into the album.  The artist that's most fun to work with is definitely Sunspot Jonz.  If he wasn't a rapper he'd probably be a stand up comedian.
Music: Nima Fadavi – Hug Bacardi (ft. Sunspot Jonz)
Working with all those artists, you get to see what characteristics each emcee brings in to the studio. What would you say is your most preferred attribute a great emcee brings?
I don't think that's a question I could answer.  Everyone is so different and has different attributes, characteristics, and styles that makes each person unique.
Have you ever tried rhyming?
Haha as a joke, yes.
Is there anyone left that you would like work with from the West?
Yes, a lot!  Fashawn, Eligh, Evidence, Messy Marv, there's way too many to list.  I got a long way to go.
Do you ever feel like you'd like to produce something other than hip hop?
Yeah, I've produced a lot of reggae beats but I'm really interested in indie rock.  I strongly believe indie rock is the future of music in general.
To stay relevant, where do you find fresh and different inspirations?
A lot of inspiration comes from the people around me and who I surround myself with.  I could really care less about staying relevant because by the time you catch up to what's relevant at the time, it's already done and over with.  I just try and carve my own path and master my own craft and style instead of trying to do something that's relevant at the time with sub-par quality.
What weapons do you bring into your war with sounds (what equipment do you use)?
MPC and hella records.
So, what is the best-produced album you've heard this year?
I would definitely have to say Fashawn 'Boy Meets World', and Souls of Mischief 'Montezuma's Revenge'.
In your opinion, who are some of the best producers now? Who do you look up to now?
The same people that I looked up to before: The Alchemist, Evidence, A-Plus, Joey Chavez, and Rob the Viking.
Is their anything else you would like to say, any shoutouts?
'Behind the Beat' feat. The Grouch, Pep Love, Sunspot Jonz, Killah Priest, Sab, and more, now online for free download at nimafadavibeats.com.  The Instrumental Files coming Spring 2010.  Sincere & Nima Fadavi 'The Calm Before the Storm' coming Spring 2010.  Shoutout to Ineffable Music Group, and thank you to The Find magazine and We've Got The Jazz for the interview.
—-
More info: Nima Fadavi
Words by: Osman Ahmed
Free Download: Behind The Beat (Direct Link)