John Morrison's Transformative Trip Down Memory Lane (Interview & Album Stream)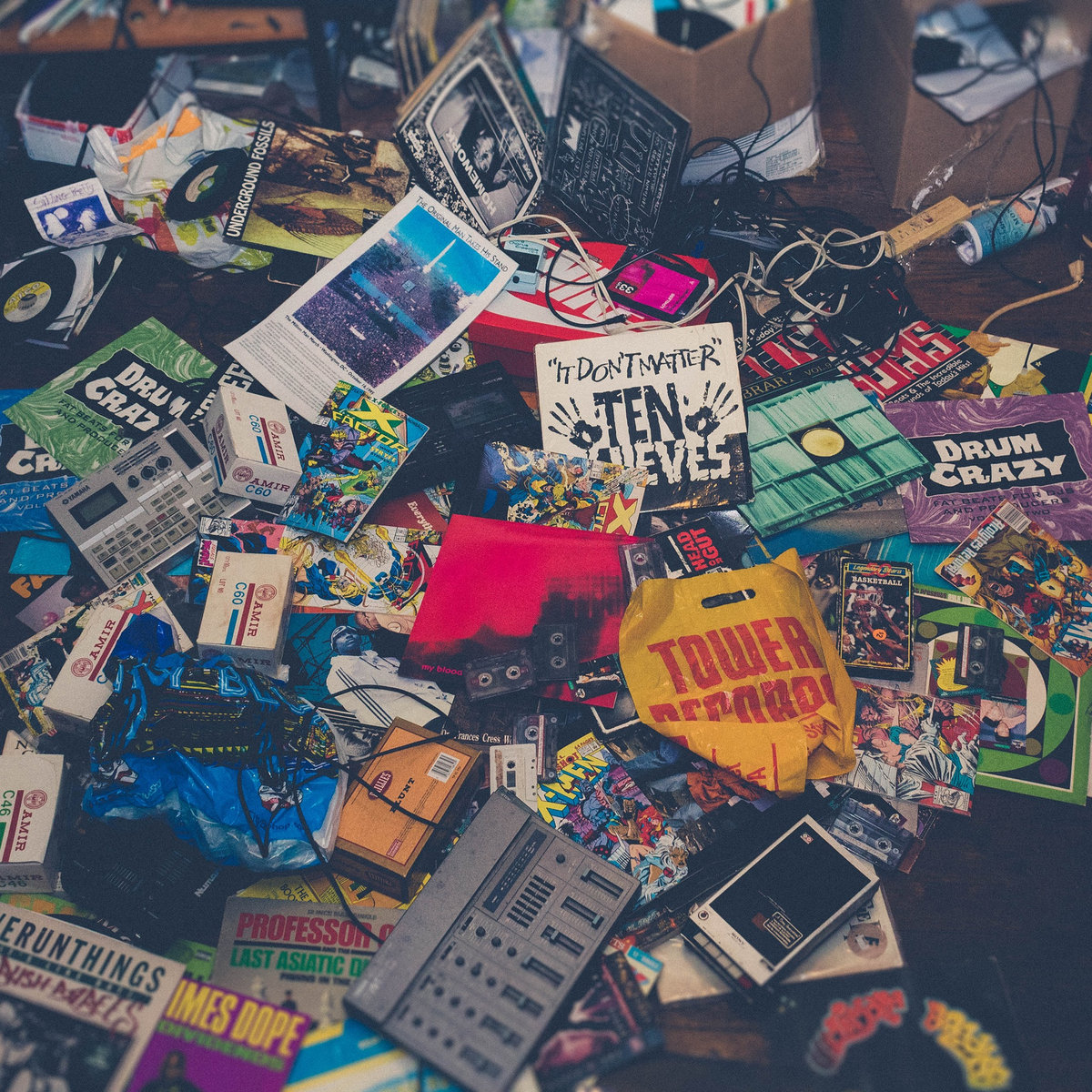 After the diagnosis of a potentially deadly illness, music writer and DJ/producer John Morrison ended up with severe hallucinations, conflicted memories, and a period of being wheelchair-bound. The creation of remix tape Memorabilia helped him to get back on his feet. 
After two weeks of intense hallucinations, pain, and non-stop hospital tests, John Morrison was diagnosed with viral encephalitis. The illness that attacked his brain and spine. "The injury to my brain threw my mind into chaos," John explains on the Bandcamp page for Memorabilia. "I misremembered things, memories and events played out in a jumbled, non-linear order. I heard and saw things that weren't there. By the time the hallucinations stopped, I was thoroughly terrified. During that time, I had also lost the ability to walk."
A long and slow rehabilitation led John to temporarily move back to the place he used to call home. Digging through records, cassette tapes, magazines & books in his mom's basement helped him to reconnect to his memory.
Did digging up memories in your mom's basement also help you to get better on a mental level?
Yeah, the whole process of digging at mom's house definitely helped me mentally. After I was admitted to the hospital, I was deeply compromised psychologically. There was a nearly two-week period that was filled with either scary hallucinations or no memories at all, like blank/dark. Once I got to my mom's house to rehab, I was obsessed with memories, finding old things and contextualizing them. Looking back now, I think I was trying to heal something that had been compromised.
How did the records, magazines, cassette tapes, and such help with that?
I think that my illness changed my relationship to memory. There were a bunch of events that I had misremembered. Such as people coming to visit me in the hospital who were actually never there. I think that this intense interest in the past and old, familiar things was a way to soothe myself and the anxiety that I had around having gone through this event where I no longer felt in control of my mind. 

Can you give a few examples of the most treasured finds, which brought back good memories?
I found so many things! Underground hip hop stuff like Abstract Tribe Unique's Underground Fossils, Ill Crew Universal's Death Of Hip Hop tape, Emanon—Exile & Aloe Blacc's old group from the 90s—and their tape Dawn's Second Coming… to stuff like Buffalo Daughter, who were an experimental rock band signed to the Beastie Boys' Grand Royal label.
Suddenly One Summer, this weird psych-pop record from the late 60s that at some points sounds like Radiohead just 30 years before OK Computer was made. After I talked with my mom and my partner, Melissa and we made the decision that I would go back to mom's house for rehab, I thought "Well, I can get some digging done because I KNOW I left a bunch of cool stuff in that basement!"
Was making Memorabilia solely a way to kill time? Or did it also have a somewhat therapeutic purpose for you?
I think a lot of the process of making this tape was a way to kill time. I couldn't walk when I got out of the hospital. Like, I remember standing up for thirty seconds in rehab, and that being a huge milestone! So really, all I did for months was hang out with my mom. My partner, my older brother, and neighbors would come by and we'd eat, talk and shoot the shit. When I was discharged from the hospital, my family went to my house and picked up my turntables, mixer, and sampler because I knew I'd have hours and hours to make beats.
Picking a song like "Creep" from Radiohead's vast catalog to mashup with Black Thought vocals is an interesting choice. What made you go for that specific track for your remix? What does the song mean to you personally?
Yeah, that song was HUGE when I was a kid and I was feeling super nostalgic. So it seemed like a natural choice. The "Creep" remix initially started out as a DJ routine that I actually started doing before I got sick. Once I started working on Memorabilia, I kinda made a "formal" version of it with the Black Thought verse. I left the Radiohead chorus out so that it wouldn't feel too cheesy.
"Everybody makes remixes now and I think that's amazing. But I wanted mine to be a little weird and colorful, like the remixes I grew up on."
What are some of your favorite remix projects?
Definitely Madlib's Remixes EP from the early 2000s. That's kinda like the standard-bearer for me: the vocals sound so natural over his production, that's what I was going for with Memorabilia. Massive Attack's No Protection (Remixed by Mad Professor in the old Jamaican dub style). I also love Cornelius' album where he got a bunch of folks like Damon Albarn, and Coldcut to remix tunes from his album Fantasma and he, in turn, remixed acts like Keyboard Money Mark and The High Llamas. Everybody makes remixes now and I think that's amazing. But I wanted mine to be a little weird and colorful, like the remixes I grew up on.
Speaking of Coldcut, is it their Let Us Play album cover that inspired you to make this type of cover?
I hadn't thought of that! That cover was everywhere years ago, so maybe it seeped in subconsciously? [Laughs]
Is the cover a photo of your actual digging spree in your mom's basement? 
No, that's actually a staged shoot that was a collaboration with my partner Melissa Simpson, who is an artist and photographer. The image is supposed to represent childhood, memory, and chaos.
Judging from the Drum Crazy break records: were you already producing in the mid-90s? 
I was definitely producing as a kid in the 90s and a lot of the pieces were old. The cover images have 4-track tape machines, cassettes, comic books, break records, and much more. It's like my bedroom when I was a teenager.
The image is also like a mixtape or playlist in itself. With a lot of the pieces serving as hat tips to my taste and influences. You'll see backpack rap and underground hip-hop stuff like the Ten Thieves "It Don't Matter" 12″, B-Boy/sample essentials like Ultimate Breaks & Beats, and one of my all-time favorite albums, My Bloody Valentine's Loveless is sitting right in the center like a red, beating heart.
What memories do you have from the basement itself? As a place, I mean?
The primary function of the basement was storage. When I was a teenager, I'd store records in the basement and make beats in my bedroom. So going down in the basement was for digging and finding things to sample.
Are you fully recovered now, or still rehabilitating?
It's been a really slow healing process. I still get some fatigue in my legs but for the most part, I'm healed.