Tyler, the Creator – Lone (Crème de la Crème #4)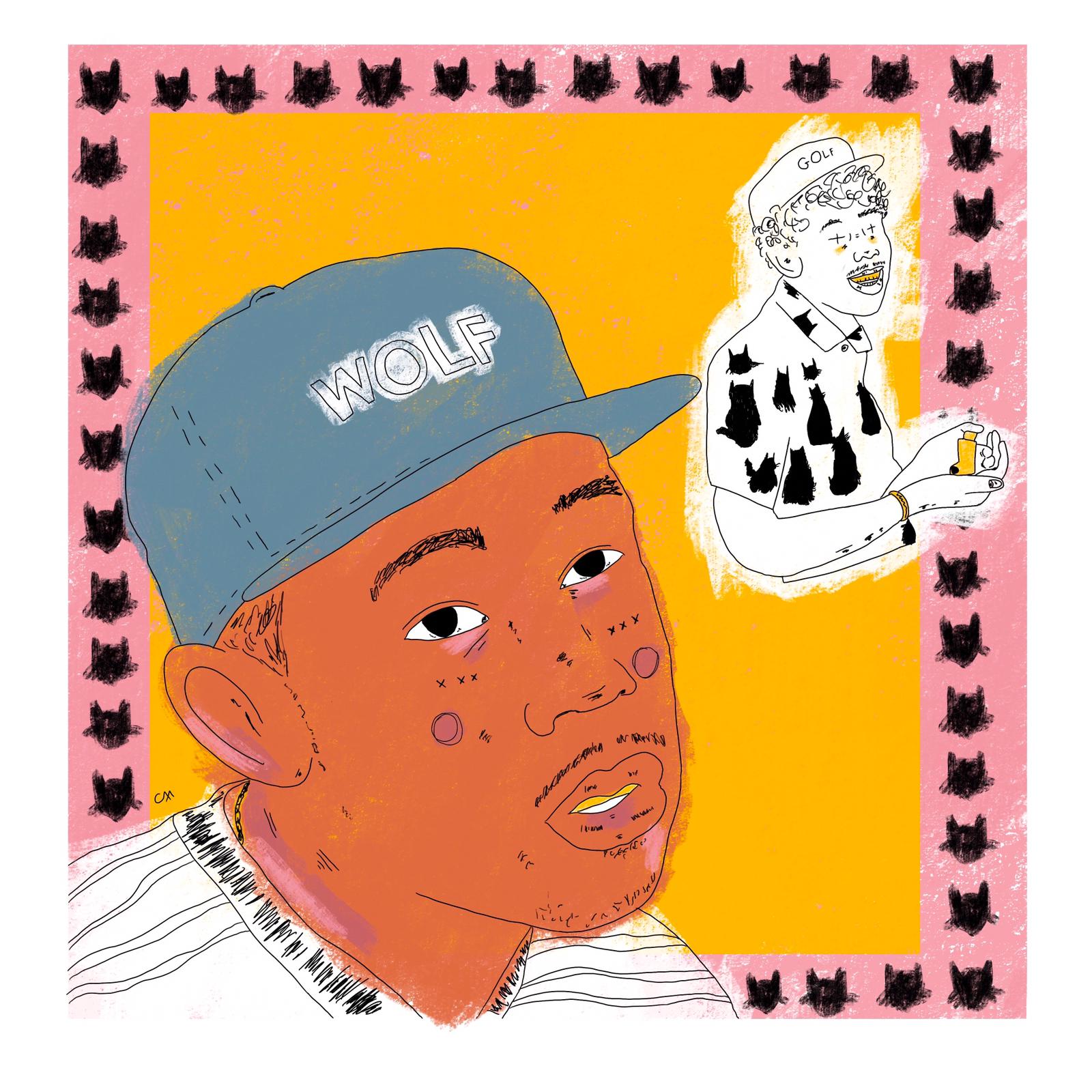 In 'Crème de la Crème', illustrator 

MC Blue Matter

 discusses music he draws inspiration from—and actually draws the artist while he listens.
I was just twelve years old when I heard Tyler, The Creator's classic song "Bastard" and I was instantly blown away. It was raw, gritty, dirty, unique—and beautiful. And as much as I recall Tyler wanting to throw his audience off with shock value (remember when he ate that roach?), I still knew he was a sensitive artist from the start. He eventually proved that with his sophomore album Wolf.
The whole thing felt more mature than Tyler's previous projects and featured gorgeous jazz as well as Neptunes-inspired production ("Answer," "IFHY," "Colossus") while still feeling very juvenile at times ("Domo23." "Tamale," "Trashwang"). Wolf was like a very immersive experience with its skits, song narratives, and cinematic score. As a teenager, I absorbed it all like a sponge. Especially the visual aspect of it. It was outlandish, daring, and extremely colorful. Honestly, I could go on and on about how Tyler's videos influenced my graphic style. But this series is about good-ass songs, not visuals.
I assume that if you're reading The Find Mag, that means that you're a fan of jazz-influenced hip-hop. Considering that, if I had to pick one Tyler song for you to listen to, I would certainly pick "Lone," the emotional closing track from his 2013 LP, Wolf. In fact, it has most of the essential qualities for a classic underground rap song:  dreamy jazz beat, off-kilter flow, and touching lyrics about family.
The track is an encore on the doctor TC narrative Tyler had introduced on the aforementioned "Bastard". In the song, T. talks like he would at the doctor's, about the death of his grandma and wanting to quit his career as a rapper. There's general fatigue and nonchalance on this song which is mirrored by the very chill jazz beat in the background which feels almost elevator-esque. The track feels like a therapeutic freestyle as Tyler spits on an untouched instrumental of Wilson Das Neves' "Jornada" without even adding drums or even looping it.
The contrast between Tyler's hard delivery and those smooth string sections is really what makes the song click. You may argue that Tyler, The Creator has better songs than this one. And you may be right. But it will always be a favorite of mine. It's not very melodic, it doesn't have any hooks, the sampling is as simple as it gets, but it has one main thing going for it: it's real. Tyler felt something strong at that time and managed to express it through his own unique voice. That's the most I expect from an artist and that's what I aspire to do as an illustrator myself as well.