Guest Mix: Hevehitta & DJ Unexpected – Enjoy And Be Educated Vol. 1 (Preview Mix)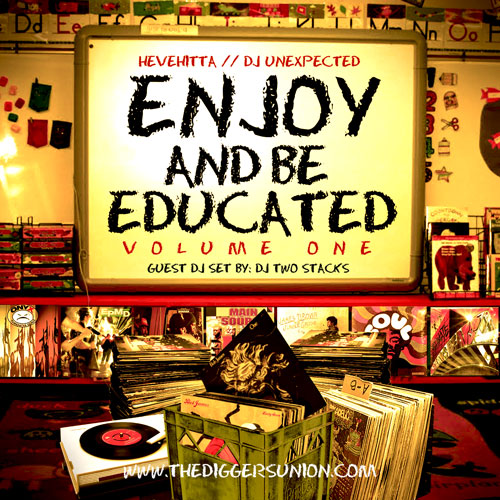 Hevehitta and DJ Unexpected of The Diggers Union are proud to release their new project, Enjoy And Be Educated. They've created a mix encompassing all aspects related to hip hop music and culture. From reggae breaks to martial arts music, and from hip hop remixes to a 'The Genius Of Bob James' selection. 
The full 45-track mix by the crate digging connoisseurs moves from the "You Must Learn" intro to material by the likes of Main Source, EPMD, Murs, MC Shan, Run DMC, Onyx, to reggae and Kung Fu(nk) breaks, a R&B guest selection by DJ Two Stacks, ending with exclusive hip hop remixes.
Listen to this 15-minute preview mix to get a taste of the educational crate digging journey. Purchase the full mix below for only 3 dollar. Believe us, it's worth every penny. Big thanks to Hevehitta of The Diggers Union for sharing this preview mix with us.
1. DJ Unexpected- You Must Learn (Intro)
"Island Of Influence" (Reggae Breaks)
2. Break #1
3. Break #2
4. Break #3
5. Break #4
6. Break #5
7. Break #6
8. Break #7
9. Break #8
10. Break #9
11. Break #10
12. Break #11
13. Break #12
14. Break #13
"Priceless Plates" (Dubplate Remixes)
15. What Is A Dubplate? (Interlude)
16. Turbulence- Notorious (DJ Unexpected Remix)
17. Jigsy King- My Sound Kill (DJ Unexpected Remix)
18. Capleton- Rob It (DJ Unexpected Remix)
19. Ras Noble, Frisco Kid & Sizzla- Calamity Medley (DJ Unexpected Remix)
"Kung- Fu(nk)" (Martial Arts Breaks)
20. Martial Arts & Music Are One (Interlude)
21. Master Of The Flying Guillotine (Trailer)
22. A Shaw Brothers Presentation
23. The Daredevils
24. The 36th Chamber Of Shaolin
25. Avenging Eagle
26. 3 Evil Masters
27. Mercenaries From Hong Kong
"Exercising With The Nautilus" (The Genius Of Bob James)
28. Bob James Speaks On Nautilus (Interlude)
29. Bob James- Nautilus
30. EPMD Feat. Redman- Brothers On My Jock
31. Ghostface Killah Feat. Raekwon- Daytona 500
32. Main Source Feat. Nas- Live At The BBQ (Nas Verse)
33. Run-DMC- Beats To The Rhyme
34. Onyx- Throw Ya Gunz
35. A Tribe Called Quest- Clap Your Hands
36. Murs- Murray's Revenge
"Heart In A Blender" (R&B Blends by DJ Two Stacks Of Hook & Eye Productions)
37. Brandy- I Wanna Be Down
38. Total- What About Us
39. Mary J. Blige- Be Happy
"Living In The World Of Hip-Hop" (Hip-Hop Exclusives & Remixes)
40. Roc Marciano- Scarface (DJ Unexpected Remix)
41. Question- Cypher 2012 Freestyle
42. A PSA From Nutso (Interlude)
43. Nutso Feat. Shabaam Sahdeeq & Royal Flush- Blowing Up (Remix Prod. By DJ Unexpected)
44. A PSA From MC Shan (Interlude)
45. MC Shan- Let's Bring Hip-Hop Back (DJ Unexpected Remix)