Interview: The Herbaliser
The Herbaliser is one of UK hip hop's architectural and building forces. In the 17 years since their debut disc Remedies was released, the duo of Jake Wherry and Ollie Teeba have broken out from "trip-hop" box they were first lumped into in the early 90's and forged an idiosyncratic sound; a world of imaginary Bond films, fragmented samples, brass and dirty drum breaks.
October 2012 saw the release of There Were Seven, a return to a darker noir type sound after their pop and soul driven 2008 offering "Same as it Never Was". Functioning as a kind of hip hop Jazz Messengers, the past decade and a half has seen collaborations with MF DOOM, Jean Grae, Roots Manuva and Phi Life Cypher to name just a few and this album shows that championing new musical talent is a habit that they don't plan on breaking. We cornered them post-gig one night to chat about their musical world and how they build it.
You've always been really open and experimental with the tech and instruments that you use on your albums, is there anything new or different this time?
Back when we started we steered clear of using samplers just for looping huge sections and tried to really chop the samples into fragments and be a little more creative. We still do a similar thing. Back then it was seen as a bit "cutting edge" but we've never set out to continually try and push technology and be seen to be pushing boundaries or really clever with what we do.
Ollie and I mixed our love of hip hop, funk and jazz and created instrumental tracks that weren't just hip hop records without any rapping, we wanted the tracks to have movement and excitement like the soundtrack music that was also very influential on us.
Over the years we've added more live stuff like the horn players  from our band -Andy Ross,Ralph Lamb and James Morton, and I've been adding more and more live bass and guitar, but we're still sampling as well.
How much are you using live instumentation now, and how much are you using tech?
I really believe just because something is new, it doesn't mean it's right for us. All that glitchy stuff is okay, but we're not going to start making "modern" sounds just because the technology is there. It's still about crunchy old drum beats with a few samples and whatever else we add on top.
On a similar note – how much would you say that you set out to find instruments and software patches that fit the ideas in your head, or (vice versa) how much is the music you write inspired by sounds that you come across?
As soon as I stopped using Akai samplers and moved to Logic I started building my library of playable sounds – different orchestral mulitisampled instruments, Greek bouzoukis, dulcimers for example. All raw sounds that I can play off a keyboard and create my own melodies off.
I also got an old Minimoog, Hohner Clavinet, Solina string machine as well as a 60's Fender Precision bass and some nice preamps and tube compressors to help record and get an authentic "vintage sound".
Ollie went crazy on eBay for a few years and bought some great 45s with samples and drum breaks and we've been blending that all up to create our sound. Certainly the sound library has meant I've been able to write fairly real sounding string lines without actually having to play a violin, viola and cello. We're also big fans of the soft synths by people like Arturia , Applied Acoustics and IK Multimedia- their SAMPLETRON software is all over our new "There Were Seven" album.
Do you find that hip hop still gets you excited or is it the constituent parts that you can make something of that appeal more?
It got a bit stale and top 40 hip hop is just fucking dire, but The Quakers album was amazing as was DJ Format's last album. With us setting up our label to release There Were Seven and coming onto Twitter we've hooked up with some great younger producers like Jenome from Liverpool, Irn Mnky from Sheffield and some great French producers like Hugo Kant, Phil Krilla and Gigabeatz Bonson, all of whom have done fantastic remixes for us.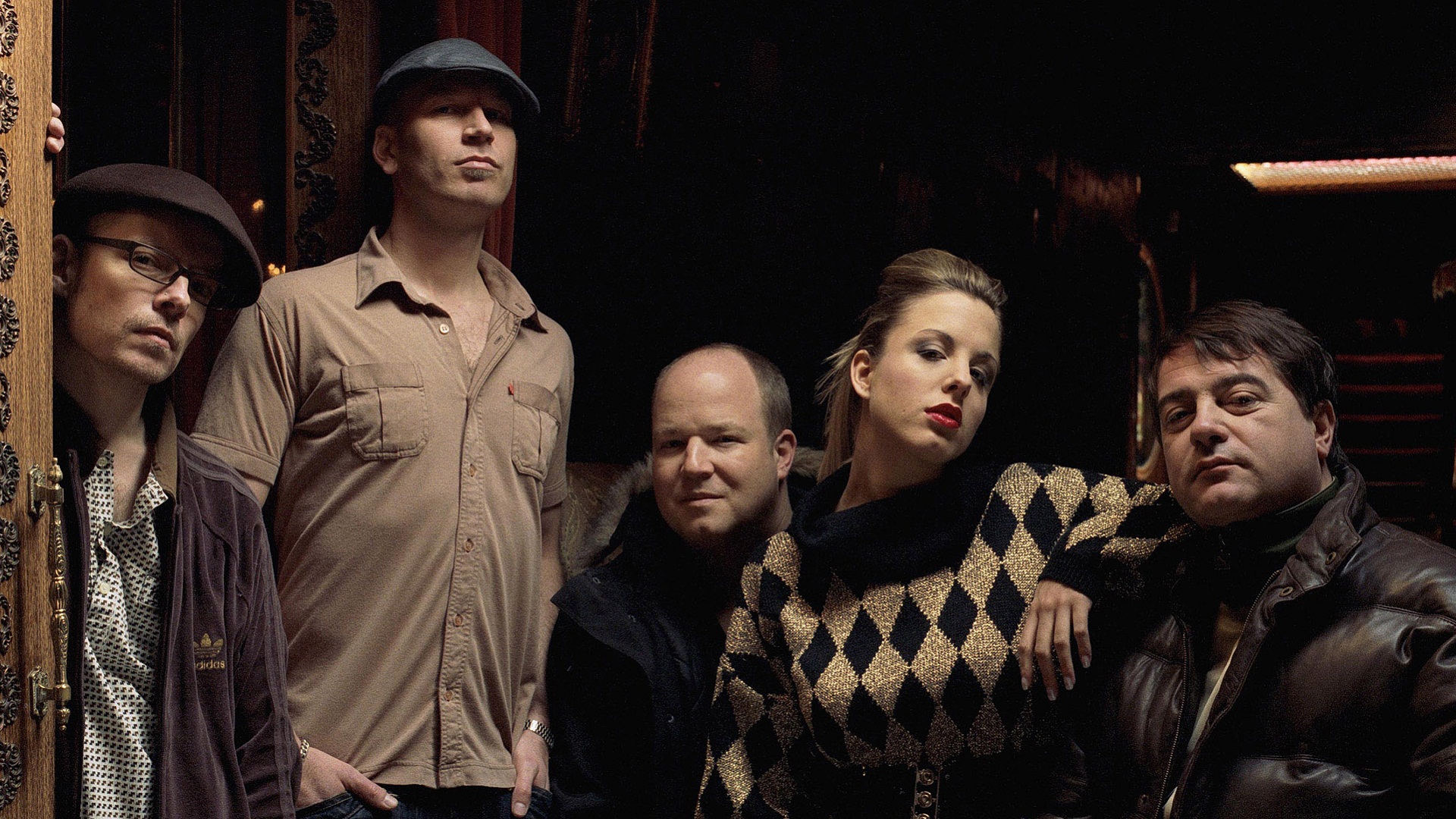 You obviously take in a lot of music that then comes across in your sound, and one notable thing has always been the mix of collaborators that you've worked with, do you find them or do they find you?
We usually approach them. So many of the vocalists we've worked with have gone on to completely out-shadow us, and quite deservedly too as neither Ollie or I have that frontman / front lady talent like Roots Manuva or Jean Grae. But in most cases we worked with these people before they blew up. We always felt that we didn't want to be getting superstars on our record, 'cause A- we couldn't afford it and B- they would totally eclipse us in profile!
One of the lines from Muneshine on this new album states "As soon as the fallopians break you learn that home is a dystopian state" . Did you go into the working process for this album to make a dystopic record, or did it evolve with your current collaborators?
There is a very loose story underpinning the album which is essentially about  a group who leave their surroundings for a few years then come back to find their old surroundings have changed, for the worse and a machine has been created to perfect all sound- of both nature and  people. They set out to destroy the machine and give the world is natural sound back. We very briefly gave that idea to the vocalists on the album and let them develop their lyrics from there.
In terms of how the ideas around your albums grow and form, you said about Something Wicked… that it was the album that came closest to what you'd imagined when you set out to make it. How does this album compare?
We'd wanted to work with a singer for a while and that's how we came to make our last album Same As It Never Was. Once we'd done that we felt it was a bit light so we knew that we wanted to make a darker, moodier record this time. We definitely pulled it off, it has the darkness of "Blow Your Headphones" but we still managed to not repeat ourselves and added new elements too- there's fuzz guitar which we've never done before, as well as our first attempt at doing something dubby- "Welcome to Extravagance". We're really pleased with how that ended up sounding and also the way the whole album came together too.
And a final few words…
Basically we don't pay attention and just make music for our sake and hope it gets listened to. It's very much from our hearts and hopefully people can hear that.
The Herbaliser will play Paris, Milan and Prague in December. Listen to The Herbaliser's guest mix for The Find below: