Mix: Subsoniq Radio Redefinition Records Takeover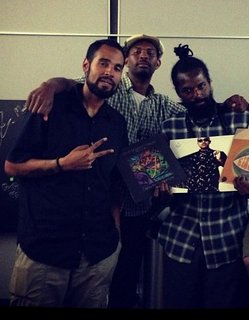 This is a combination of two of the illest outlets for music in hip hop. Subsoniq Radio is a monthly show curated by the one and only K Murdock of the mighty Panacea and Neosonic Productions, also well known of late for his gaming/otaku focused collaborations with Random aka Mega Ran. Redefinition Records are one of the best indie labels on the planet for that real gritty hip hop sound, and home to the mythical beatmaking legend Damu The Fudgemunk.
Recently, the Subsoniq airwaves were hijacked by a tactical team (Damu, Insight, Raw Poetic) from Redef headquarters and the ensuing 3 hour show was a golden glimpse into the legacy and future of the label.  Home to artists like Damu, Raw Poetic, Insight, K-Def, Kev Brown, and Klaus Layer, Redef is the epitome of quality hip hop. Each project is painstakingly put together by the in house team of boom bap scientists and archaeologists.
For hip hop heads, vinyl junkies and everyone in between, Redefinition are a label to always keep an eye on. Quite frankly, their catalog is fatter than a walrus with a McDonalds addiction. Take this opportunity to bask in the audible bliss of beats and rhymes, learn a bit more about their philosophy and output, and buy yourself a nice slice of vinyl from their archives.