New Blu & Exile: "Constellations (ft. Lyric Jones)", from 'In The Beginning: Before The Heavens'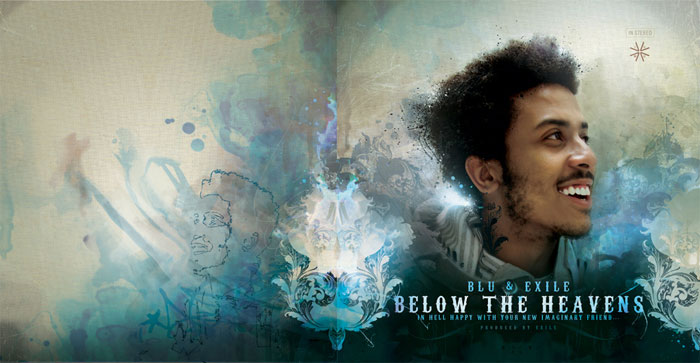 We've been all waiting for this… It's been 10 years since the release of Blu & Exile's magnum opus, Below The Heavens. As previously announced, the indisputable classic now gets a prequel: In The Beginning: Before The Heavens, consisting of 14 tracks from the original 2007 sessions, hand-picked from over 40 tracks in the vaults.
In The Beginning: Before The Heavens is slated for an October 15th release. You can pre-order the 2LP vinyl (including a bonus 7″) or CD on Bandcamp or over at Fat Beats.
"We planted the seeds of creativity and grew about 40 plants," says Exile to Mass Appeal for today's premiere. "We picked the ones that we thought were the best for an album, but that didn't mean that the other flowers weren't beautiful. I'm super happy to re-release [In The Beginning] to people and have it actually get some attention that it definitely deserves. It's amazing."
Listen to "Constellations" below on Soundcloud or Bandcamp.
In The Beginning: Before The Heavens (Cover & Tracklist)
1. Soul Provider
2. Another Day
3. Constellations 04:50
4. All These Ladies ft. Dr. Oop
5. Party Of Two
6. Back To Basics
7. On The Radio
8. You're Gonna Die Someday
9. Life Is A Gamble ft. Donel Smokes, Trek Life, & Co$
10. Things We Say ft. Aloe Blacc
11. Hot For Yall ft. Donell Smokes
12. Hard Workers ft. Blame One
13. Sold The Soul
14. Stress Off The Chest