Review: Perry Porter & ICBM – Paper Moon (2012)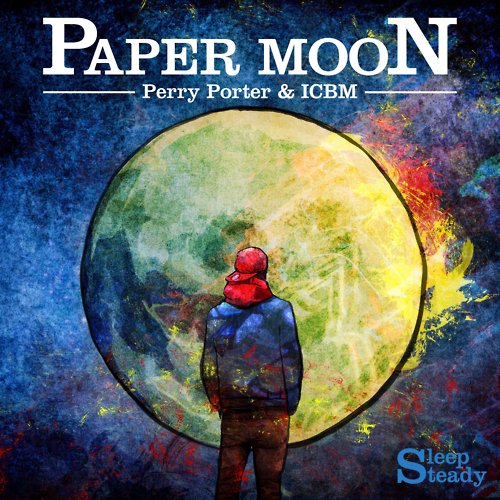 Paper Moon, the first full-length collaborative album from Sleep Steady's Perry Porter and French producer ICBM feels like it could have been two records. The first is sample-driven from that 2002 conscious-rap style, the other is a more synth oriented and hits a lot harder. Both suit Perry Porter's chilled intonation and clever word-play.
Virginia-based (for now) emcee Perry Porter does all of the heavy verbal lifting on the record, and despite a couple of guests (other half of Sleep Steady, CARLisDEAD, as well as Veepee, Grace Kelly, Anthoney "Hot Ham" Williams, RaceceR & DJ Lord Faz), you're going to mainly hear Perry's confident verses across the album's 15 full-length tracks. Perry has a knack for writing memorable hooks and succinct phrasing, and I can't help but be reminded of Jay-Z, and not just because of Perry's cheerful tongue-in-cheek obsession with 'swag'. The song-writing covers a lot of topics, honest and unpretentious, and all slip and slide with Perry's drawling vocals and his distinctive verbal trademark of draaaaawing out his syllables.
French beat-maker ICBM handles all the beats on the record, and he may be familiar from his banging work on 'Nord Sale (Dirty North)' remixing Swedish crew Trainspotters. His style is punchy, a blend of sampled and cut melodies, synth pads and leads, sequenced drums and plenty of drops and change-ups to keep the emcee on his toes.
The album's most memorable tracks are its three big opening numbers. 'Apollo 11', 'Jet Lag', and 'Man on the Moon', all of which are packed with innovative energy and some damn catchy lines. In comparison, the softer and more old-fashioned numbers (the 'other' side of the record) just feel a little bit less striking somehow. However, depending on your taste for jazz-hop, the tracks like 'Luci(d) Dreams' and 'Reality Bites' are pretty damn cool. The record is a fine showcase for Perry Porter's skills, and even if in terms of a single listen the music may have been better served by being split over two more stylistically concise records, it certainly satisfies.
If you dig the awesome album artwork by Romain Jacquet-Lagreze, there are t-shirts on sale.