Mix: BeatPete & Benito – Dopeness In 2013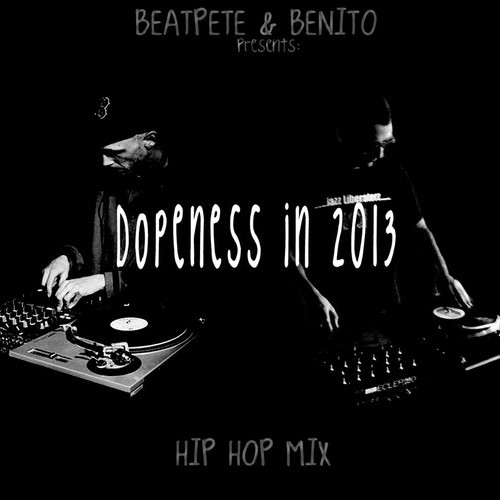 BeatPete (HitYaWitThat, Berlin) and Benito (Montréal) present Dopeness In 2013, an aptly-titled musical retrospect of this year. It's been a great year for hip hop – and independent hip hop in particular. This 60-minute mix gives a nifty overview of the blooming contemporary scene.
Of course the mix includes essential picks off top-notch 2013 releases like Man Of Booom (Man Of Booom), The Trip (Dexter), The City Under The City (L'Orange & Stik Figa), HARK (The Doppelgangaz), The Adventures Of Captain Crook (Klaus Layer), and Return To The Golden Era (Awon & Phoniks). But the selection was made purely based on taste and personal influences, so don't expect an ultimate "Best Of 2013" mix covering the complete hip hop spectrum. This is solely the best according to BeatPete and Benito.
Part # 1 – BeatPete – Strictly Vinyl
1. Intro
2. Twit One – Thai Wallah
3. Marian Tone – Back Home
4. Twit One – Smokerings
5. The Doppelgangaz – Barbiturates
6. Klaus Layer – All Of The Time
7. Damu The Fudgemunk – Who They Flock
8. FloFilz – Holzhuette
9. Kid Tsunami & Sean Price – Banger Exclusive
10. Dexter – With Ease
11. L'Orange & Stik Figa – Smoke Rings
12. Damu The Fudgemunk – Blizzard (for Roc Marc)
13. Kayo – Combinations
14. Epidemic – Monday To Sunday
15. Wun Two – Don't Go Away
16. Lex de Kalhex – Time Has No Ending
17. FloFilz – Georgia
18. Score 34 – Smoovest Flavour
19. Brous One – Ya Know
20. Soulpete – Bring Light To The Darkness
Part # 2 – Benito
1. Skribe Beatz – Intro
2. The BoomBap Cats – Beyond Real
3. Trek Life – Eat More Chocolate
4. Def Dee – Remember We (Remix)
5. 5Kiem – Sunshine
6. Kid Tsunami feat. Yesh – No Guarantees
7. Man Of Booom feat. DJ Scratch Dope – Melody Spells
8. Audimatic (The Audible Doctor & Maticulous) – New Shit
9. Awon & Phoniks – Get Yours
10. John Robinson & Kyo Itachi – War Backwards (Azaia Remix)
11. Serge Severe & 5th Sequence – French Toast
12. DJ Suspect & Doc TMK feat. RacecaR – Up And Out
13. Soul Square feat. RacecaR – One More Thing
14. Frenic – Basics Of This
15. Jazz One – Coz All My Vinyl
16. K-Def & DaCapo – CAP-tion
17. Oddisee – Outro